Updated May 3, 2023
THE ROADLOFT FORMULA: ROAD TRIPS AT $20 PER DAY
A minivan road trip is probably the most economical way to comfortably travel around North America (we do this at averages under $20/day per person). We arrive at these costs first because we do not have to calculate the rental or purchase costs of a vehicle dedicated to travel. Because we use our everyday vehicle equipped with a removable camper conversion kit. A simple solution, to go far with less. This is what we call between us, the advantage of vanlife in the Roadloft formula.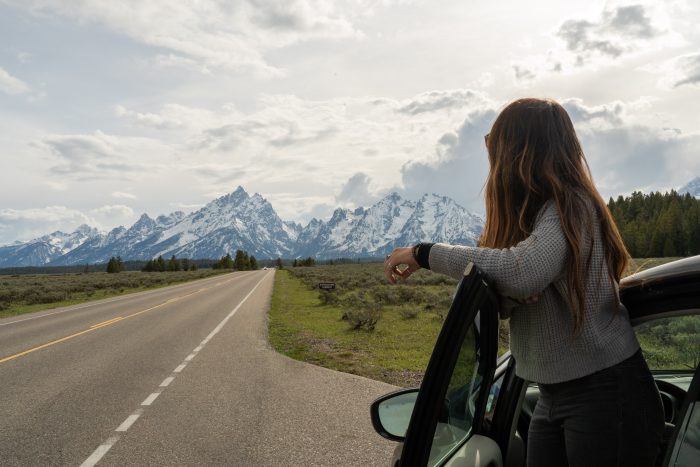 FIRST KEY: JUST A KIT, NO RV PURCHASE
Compare with those who rent or buy a second vehicle (RV) to see.
Start by calculating the costs of renting or buying the RV (up to $250,000 and more). Add the significant depreciation, the recurring costs of insurance, maintenance, registration, storage, not to mention all the time spent cleaning and storing your second vehicle.
Then compare with the Roadloft formula, the alternative of which allows you to adopt the vanlife at a minimal entry cost. Whose purchase cost is a tiny fraction of that of an RV. Because you can get a Roadloft SUV or minivan conversion kit starting at $1,890 and $4,590.
With your removable Roadloft camper kit for minivan or SUV, you will make the same road trips as large motorhomes. In 5 minutes, your everyday vehicle will become a camper. And as the Roadloft kit meets high quality criteria and is intended to be durable, you can count on it for a long time and simply. As a bonus, its resale value will remain high. Quite the opposite of Vr, what!
SAVE EXPENSES AND TIME BOOKING HOTEL OR APARTMENT
The second saving made by equipping your everyday vehicle with a Roadloft conversion kit: accommodation costs. No hotel, Airbnb or shelter fees, and even less tourist taxes to add to the final bill. Icing on the cake, you sleep every night in your bed and you also save a lot of time planning reservations. This formula allows a lot of spontaneity and improvisation along the way.
PRACTICAL DISCRETION, FREE
Sometimes, in town, our van – inconspicuous in appearance and nothing to distinguish it from other cars – is simply parked in the street between other vehicles. We just have to draw the curtains to feel at home. In the United States and Canada, there is always a way to easily find a free campsite, a quiet place to land for the night. Icing on the cake, we sleep every night in bed.
OFFER THE BEST CAMPING SITES
Even on the camping side, when you decide to stay there, you will appreciate not only the low cost and the wide choice of pitches of the sections reserved for tents, but above all their qualities. Much more intimate, often wooded, with better views than the RV sections which unfortunately too often look like shopping center parking lots.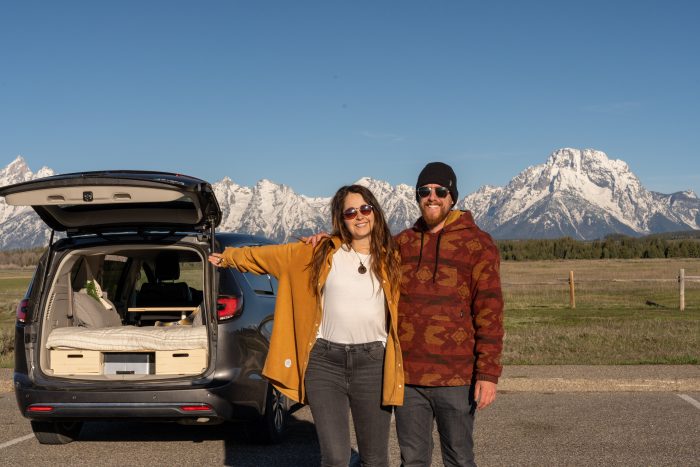 DETAILED BUDGET OF A DREAM ROAD TRIP
A trip still has a price and we detail here one of those we made with our camper-equipped minivan with our Roadloft kit: an exceptional road trip lasting one month, 10.109 km from Quebec to Wyoming and South Dakota in 2022
A dream trip to explore mythical parks like Yellowstone or Grand Teton National Park. And also other extraordinary places, such as the Badlands National Park, South Dakota; Black Hills National Forest, South Dakota; Devils Tower, Wyoming; Tongue Canyon, Wyoming; Needle Highway, South Dakota; Custer State Park, South Dakota; Wind Cave National Park, South Dakota; Jewel Cave National Park, South Dakota!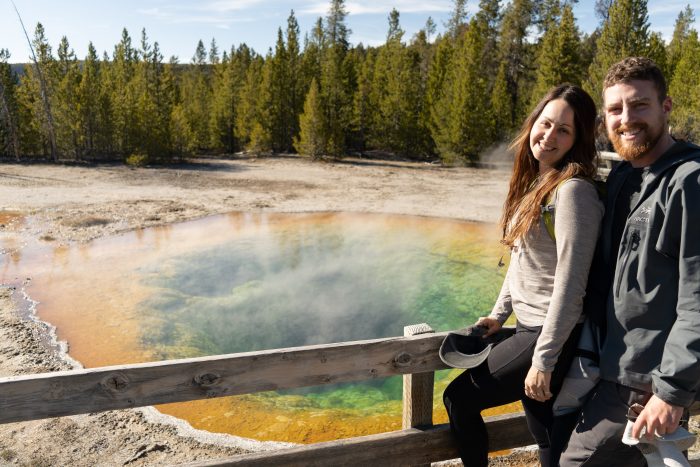 In numbers (after deducting the expenses we would still have incurred if we had stayed at home), that means less than $20 a day each!
By subtracting from the total of 2553 USD the expenses that we would have incurred on a daily basis anyway by staying at home (groceries, restaurant, gas, outings), this fabulous trip cost us as little as 1103 USD. Less than 20 USD per day per person! A figure that seems incredible, but nevertheless true. Find better!
Wyoming and South Dakota 1 Month Road Trip Expense Compilation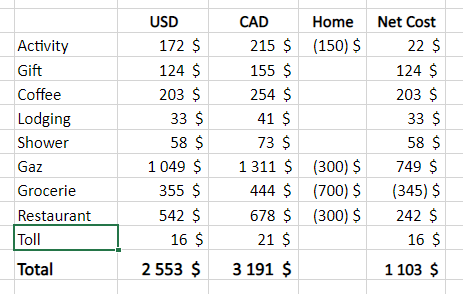 This diagram presents the real costs of each expense of this month-long road trip in the USA and their proportions.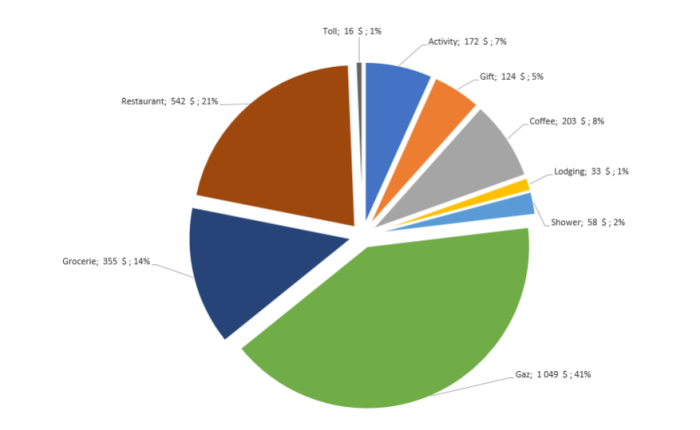 GAS
The first thing that jumps out at you is of course the fuel consumption. We were driving a Chrysler Pacifica Plug-in Hybrid and we consumed 738 litres, or an average of 7.3L/100km – however, we did not recharge our vehicle once at charging stations. With the price per liter of gasoline at 1.42 USD on average, we spent just under 1050 USD. Fuel represents the most important part of the budget for this trip. This is why you have to think carefully about the vehicle you want to use.
For a combustion minivan, for example, consumption is more like 10 L/100km. The trip would have cost 390 USD more. And with a Promaster, cargo or even bigger vehicle (Class A or C), we would have reached averages between 15 to 35 L/100km. Among this wide range of motorhomes, with one of the most economical, say 17 L/100, the gasoline budget would thus have gone from 1050 USD to 2445 USD for the same road trip.
This difference is considerable in our eyes. Not only for our wallet, but above all for the environment – this fantastic ecosystem of which we are a part. During this trip, we emitted 1.78 tonnes of CO2. To compensate, thirteen trees had to be planted, which cost CND 62 via Carbone Boréal. This amount is not indicated in the graph because it is discretionary for each person. For us, vanlife enthusiasts, nature lovers and very often on the road, it has become a habit. Nature gives us a lot, the least we can give back is to limit our impact.
THE FOOD
Here, everything depends on you! De if you prefer the pleasures of discovery in the restaurants or microbreweries that you will come across on the road road or cooking your own dishes. As you can see from the graph, we like both. By cooking yourself, the costs will be the same as at home. And if you ever lack inspiration, read our article and its "Vanlife Friendly" recipe ideas.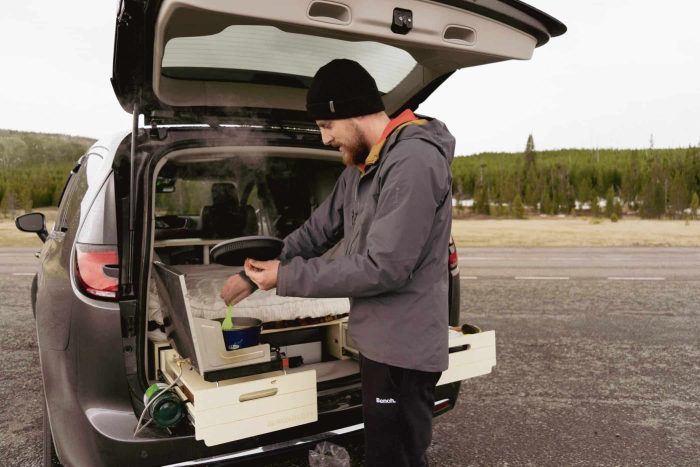 WHERE TO STAY THE NIGHT?
Sleeping sites will cost you between $0 (boondocking, public lands, BLM, parking, vanlife friendly municipality…) and generally between $15 and $30 per night in a tent campsite. There is also an annual Harvest Hosts (United States) or Terego (Canada) subscription which will cost you $109 and you will have access to a large network of free parking lots (more than 1600 in 9 provinces) for one night at local producers who welcome you to their land.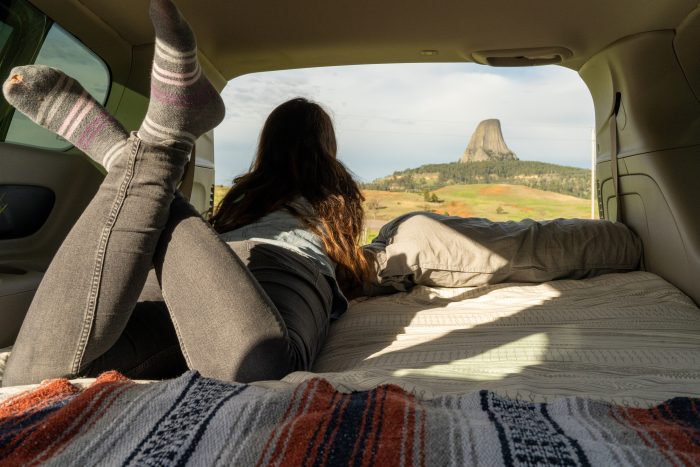 SHOWER AND LAUNDRY
For longer road trips there is the question of showering and laundry. For the shower, it can be free in community centers or public beaches for example, or up to $15 if you opt for gym memberships or "truck-stop" gas stations. If you want to know where to shower, we have an article on 5 places to shower on a road trip!
For laundry, count a maximum of $5 depending on the option you choose.
PROPANE
To operate your stove, you will need a propane tank. You can find some for around $10-$15 for 16 oz. We advise you to always have 2 or 3 in your minivan, depending on your use and the wind, it can last you between a few days and about 2 weeks most of the time.
ACCESS TO NATIONAL PARKS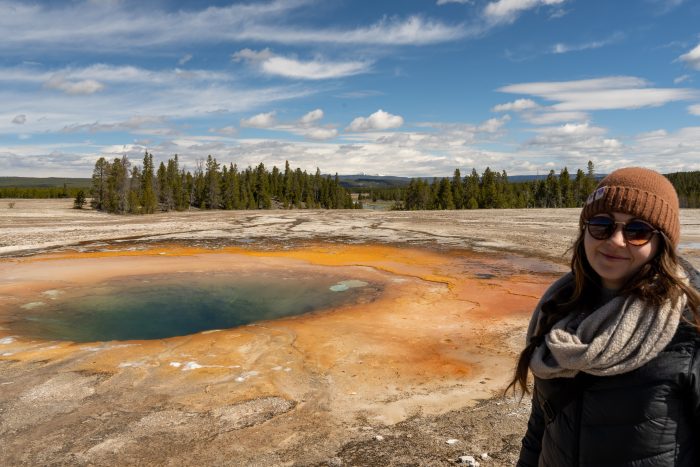 Going on a road trip means enjoying nature a lot! Access to US and Canadian National Parks can be expensive per unit, especially if you visit a lot of them. There are several options to save:
• In the United States, the annual America the Beautiful pass at a cost of 80 USD per vehicle per year gives you access to more than 2000 national parks, forests, wildlife reserves, historical sites and battlefields.
• The Discovery Pass at $145.25 for the vehicle per year which gives you access to more than 80 destinations in Canada.
• The annual Québec National Parks card at $83.49/year (valid for an adult and accompanying children) which gives unlimited access to all National Parks.
Enriched with all this information, you should be able to better make your dollars travel, better plan your budget for getaways and road trips in the Roadloft formula.
All you have to do is find the vehicle that suits you best and do your calculations. Discover the vehicle models compatible with our camper conversion kits on Roadloft.com.

Looking forward to meeting you on the road!