Your everyday vehicle converted into a camper
1

Instant and removable conversion

Set up your van as a camper in minutes and take off whenever you want. Available for Dodge and Chrysler Grand Caravan, Pacifica, Toyota Sienna, Honda Odyssey, Kia Sedona, Ford Transit Connect and Nissan Nv200.

2

Expertise and quality

3 years living in a minivan, 2 years of R&D and more than 850 kits on the road! We promise you uncompromising manufacturing. Multilayer eco-friendly varnish on all cutting edges, marine grade wood, strength and lightness.

3

Space optimization

A thoughtful design by experienced travelers to meet the real needs of the road. A conversion kit designed by our expert designers for unparalleled comfort!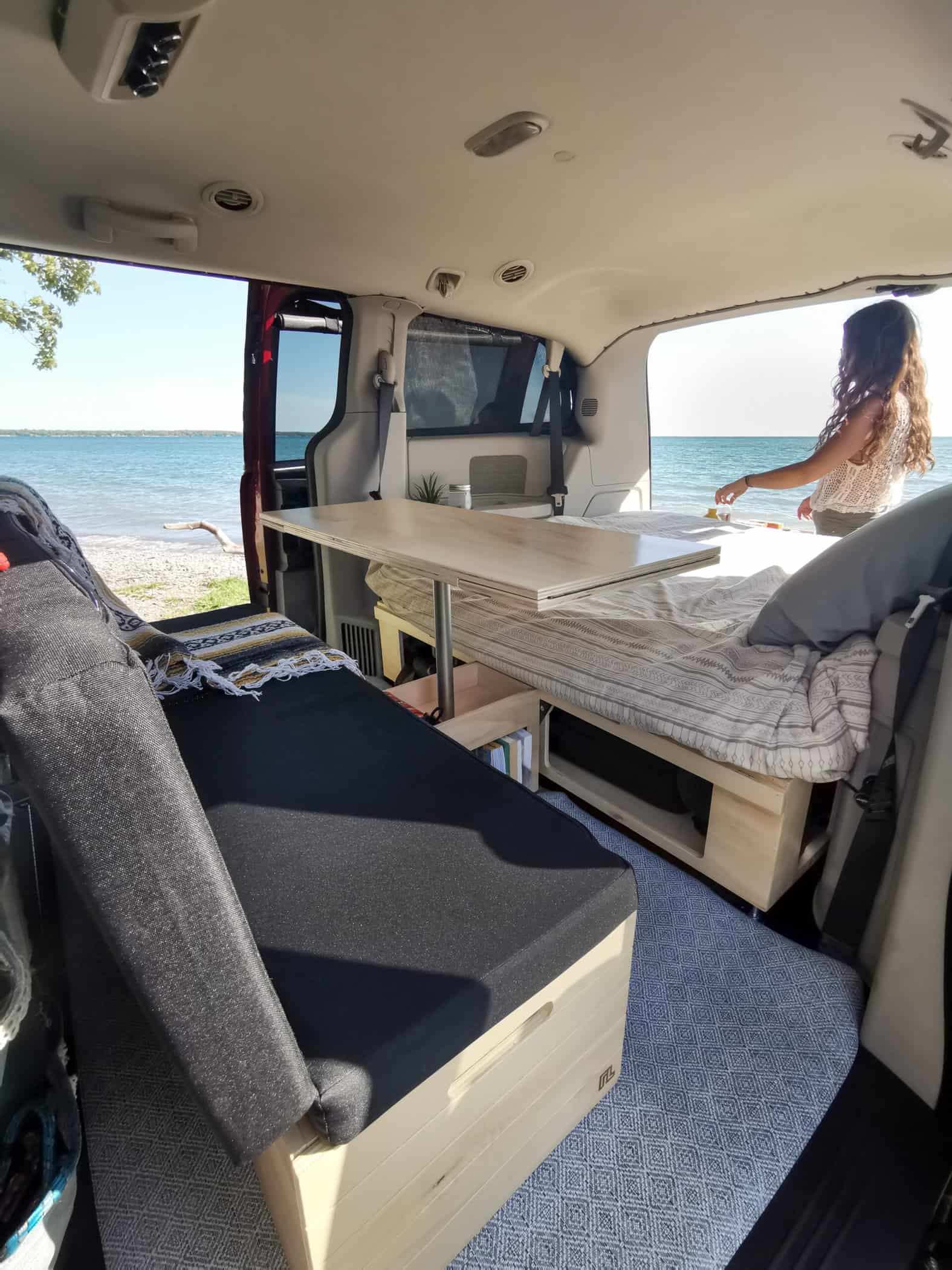 The solution to get out of routine and go more often in spontaneous getaway!
Customer reviews
J'ai mon kit depuis juin 2021, ce qui m'a permis de parcourir le Québec cet été et de me sentir chez moi partout! J'adore mon kit Roadloft! C'est pratique, bien pensé, simple d'utilisation et de qualité.
Véronic Lemire
2022-01-02
Excellent service et produit ingénieux!
Bertrand Boucher
2021-11-29
Après avoir vécu le camping en tente-roulotte avec nos trois enfants, RoadLoft est le concept parfait pour moi et ma conjointe. Tout a été pensé afin que nous passions de courts ou longs séjours agréables à faible coût. L'équipe RoadLoft est attentionnée et à l'écoute de ses clients. Note parfaite pour cette entreprise québécoise!
We are so happy with our RoadLoft van conversion kit. Received it last June and used it on an 11,000 mile cross country (US) trip. The bed is very, very comfortable allowing us to sleep well. We saw several options but RoadLoft seemed best. Glad we made this decision.
Diane Bourbonnais
2021-11-22
Les étoiles vont au service à la clientèle! Très bon contact, dynamique et accessible. Nous avons precommandé notre kit par téléphone. Quelque chose m'empêchait de compléter ma transaction en ligne et on m'a téléphoné le jour suivant faisant suite à ma demande. Nous avons très hâte d'aller chercher notre kit en mars prochain. Très beau concept, je reçois des infolettres concernant la fabrication et autres astuces en attendant. Très intéressant. Suivra un nouvel avis dès que nous aurons utilisé le tout! Au plaisir.
Marie-Claude Tremblay
2021-11-20
5 étoiles!! Après une hésitation entre le ''Do it myself'' et un magasinage auprès de d'autres fournisseurs, j'ai opté pour le Kit Roadloft en juin 2021! J'ai fait LE meilleur choix!! Bien fière de mon achat. Le kit est extrêment bien fait. Tout est pensé pour bien optimiser l'espace et la qualité des matériaux est au rendez-vous. Ma mini-fourgonnette ainsi aménagée me permet de belles escapades avec tout le confort requis! Bravo à Roadloft et son équipe! Une belle entreprise québécoise! On aime! :-)
Anick Perreault
2021-11-20
J'ai maintenant mon kit Roadloft depuis janvier et depuis, j'ai passé plusieurs fins de semaine cette été en Terego et puis cette automne voyage de 6 semaines dans l'Ouest Canadien. Très satisfaite! Service après vente excellent!
Mireille Cloutier
2021-11-19
Quel plaisir de voyager sans se soucier de tirer une caravane derrière soi! Le Roadloft s'installe facilement, est versatile, offre du rangement et du confort et surtout de la flexibilité de voyage. Plus besoin de réserver des sites de camping des jours à l'avance, on peut dormir presque n'importe où grâce à l'autonomie offerte par l'ensemble du kit. La transition repas, dodo, déplacement se fait en quelques minutes. Nous habitons en Alberta, nous avons acheté notre RoadLoft en mai et en avons profité tout l'été. J'ai hâte au printemps pour me remettre au camping, style RoadLoft afin de poursuivre notre exploration des grands espaces de l'Ouest canadien et américain.
isabelle Bélanger
2021-11-19
Le kit RoadLoft est le parfait partenaire de voyage: il est efficace, confortable, conviviale, et esthétiquement joli !
Véronique Ethier
2021-11-19
Excellent service! Et très satisfaite de notre kit!
The RoadLoft Conversion Kit is:
Economical

Save fuel, no buying or maintaining a second vehicle, no registration and insurance... more choice of camping sites.

Comfortable

No matter the weather, sleep sheltered from the elements. Extra-long bed, high-density foam mattress.

Quick installation

Comes assembled. Quick to install (under five minutes) and ready to use. Perfect for spontaneous expeditions!

Durable

Made of wood selected for its strength, certified PEFC, FSC and Carb Phase 2. A kit that follows you even if you change car.

multifunctional

A bed, a kitchen, an indoor table and several storage spaces adaptable to your needs.