A minivan road trip is probably the most economical way to travel comfortably in North America (we arrive at averages below USD $21.5/day per person). The first savings made thanks to the vanlife are obviously accommodation. No hotel fees, no airbnb and even less tourist taxes to fatten the final bill – icing on the cake, you sleep every night in your bed and you also save a lot of time by avoiding reservations. Sometimes, in town, our van is simply parked on the street among other cars and we just have to draw the curtains to feel at home. And in the United States for example, there is always a way to find a free campsite.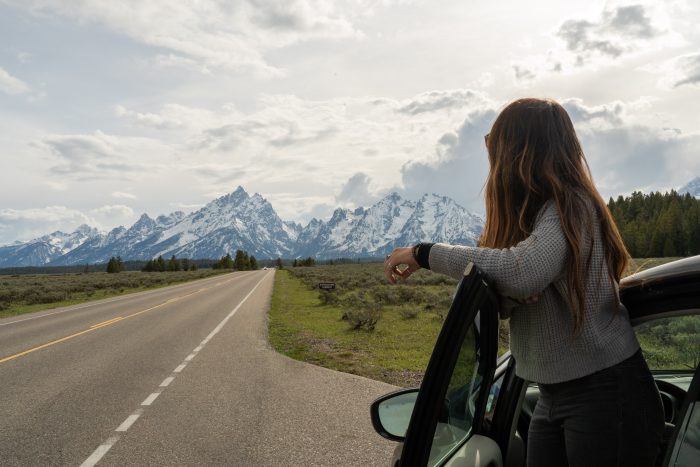 Second, a camper conversion kit like the Roadloft is 20 to 30 times cheaper than a large RV (CAD $5,000 for a kit versus CAD $100,000 to CAD $150,000 for a large RV). And finally, using your weekday vehicle to go on a trips allows you to save a lot of money: a single vehicle means a single insurance, a single maintenance, a single license, and it simplifies life. For license plate fees, in Canada it is between CAD $200 and CAD $350. In the United States it's USD $80 per year.
Despite everything, a trip has a price and we are going to detail one of those that we have made. An exceptional four-week road trip from Quebec to Wyoming and South Dakota in 2022. In numbers, this gives 10,109 km on the odometer for a total amount for two people of USD $2,552.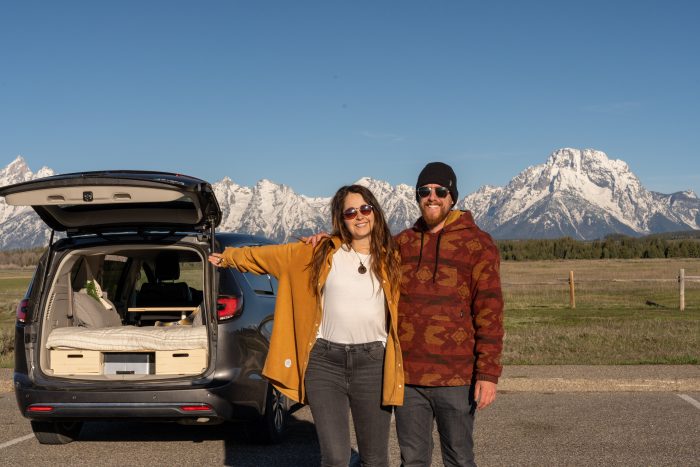 If we subtract from the amount of USD $2,552 a normal food, restaurant, gas or activity budget that we would have spent on a daily basis anyway, the actual price of the trip came to USD $1,200, or USD $150/person per week. Less than USD $21.5/day and per person to discover magnificent landscapes and return with stars in their eyes.
This graph allows you to visualize the actual costs of each position during this road trip.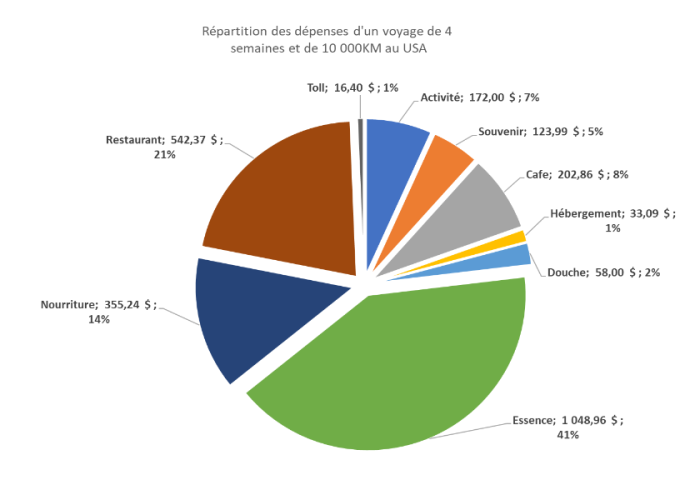 The gas
The first thing that jumps out at you is of course the fuel consumption. We were driving a Chrysler Pacifica Hybrid and we consumed 738 litres, or an average of 7.3L/100 km – on the other hand, we did not recharge our vehicle once at the charging stations. With the price per liter of gasoline at USD $ 1.42 on average, we spent a little less than USD $ 1,050. This 41% represents the largest budget share of the trip, which is why we must think carefully about the vehicle that we want to use. For a combustion minivan, for example, consumption is more like 10L/100 km. The trip would have cost USD $450 more. And with a Promaster, cargo or even bigger vehicle, we would have reached averages of 15 to 17L/100 km depending on the load. The gasoline budget would thus have gone from USD $ 1050 to USD $ 2400 for the same road trip.
This difference is considerable in our eyes. Not only for our wallet, but above all for the environment.
During this trip, we emitted 1.78 tonnes of CO2. To compensate, thirteen trees had to be planted, which cost CAD $62 via Carbone Boréal. This amount is not shown in the graph because it is up to each individual to decide what they want to do. For us, vanlife enthusiasts, nature lovers and very often on the road, it has become a habit. Nature gives us a lot, the least we can do for it is to limit our impact.
Food
Here, everything depends on you! If you prefer to indulge yourself in the various restaurants or microbreweries that you will come across along the way, or if you want to prepare your own meals. As you can see from the graph, we like both. Cooking your own meals will cost you the same as it does at home! In lack of inspiration? You can try our recipes that are vanlife friendly and discover our tips : Best camping recipes and cooking tips.
Where can I sleep?
Depending on where you sleep, it can cost you 0$ in public spaces, BLM, parking lots, vanfriendly municipalities or boondocking. If you go to a camping site, it will cost you 15$-30$ per night. Camping spots can be a great option if you are looking for other services provided such as showers. There is also the Terego annual subscription at 109$, you will have access to a great network of free parking (more than 1,600 in 9 provinces) in local producers' land.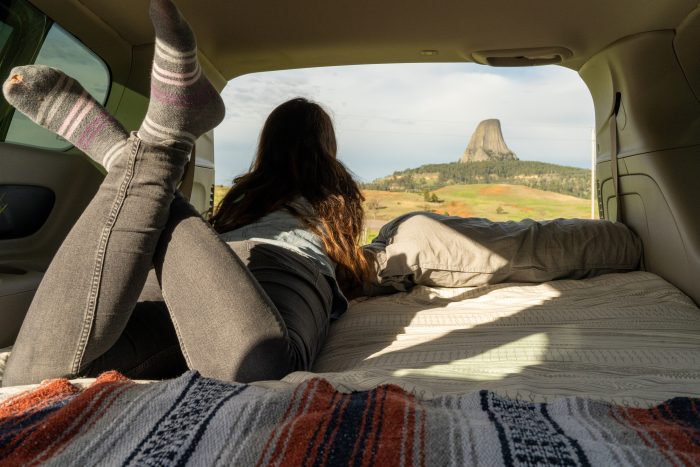 Showers and laundry
For longer road trips, you will have to consider those questions. For showers, it can be free at community or sports centers, beaches etc. If you opt for a monthly gym subscription or truck stops, it will cost you 15$ on average. If you want more details on where to shower, we have an article on 5 places to take a shower on a road trip! For laundry, charge anywhere between 0$ to 5$, we have a whole article about how you can do your laundry on a road trip *insert link to the new article*
Propane
We advise you to have 2 to 3 propane tanks with you as your consumption depends on the wind and how much you cook, it will last a few days or 2 weeks most of the time. The price for a tank (16oz) is around 10$.
National parks access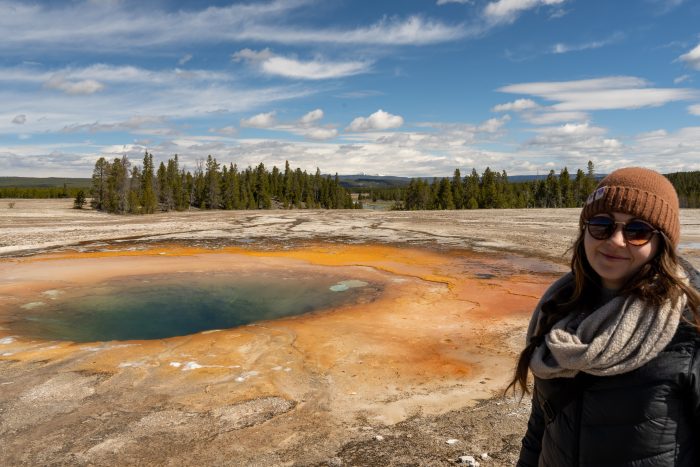 Going on a road trip is also to enjoy nature ! The entry fees for national parks can add up quickly if you visit many. To save up, there are multiple options :
• Annual Parks Discovery Pass gives you unlimited access to more than 80 destinations for 145,25$ by vehicle
• The Quebec National Parks annual card for unlimited access to Quebec National Parks from the SEPAQ at the cost of 81,25$
• In the US, the annual pass America the Beautiful costs 80$ USD for the vehicle and you will have access to more than 2,000 national parks, forests, historical sites…
With all this info, you are set to plan a budget for your road trip with the major expenses ! 
Now all you have to do is find the van that suits you best and do your calculations. You can see the compatible minivan on our online store.
See you on the road!