The better equipped we are, the simpler the journey
Our years on the road have taught us that the better equipped we are, the easier the journey. Comfort in vanlife mode notably involves a few accessories which, although they may seem complementary, often become essential.
Whether it's for the holidays, joyful spontaneous getaways close to home or your weekend outings, here are accessories to enhance your trip.
ROADLOFT MATTRESS FOR MINIVAN OR SUV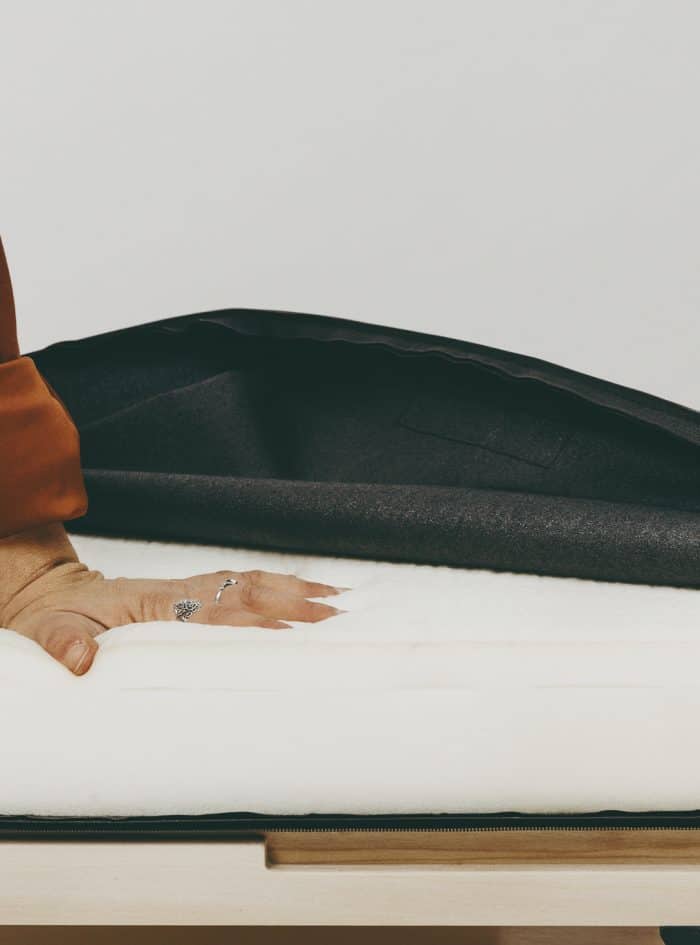 Some believe that the thickness of a mattress determines its comfort. Whereas it is rather its density that counts. This is what allows optimal and lasting support.
After hearing so many customers tell us that they slept better and longer lying on their Roadloft kit than at home, we wanted to check what the truth is by surveying them. And this poll confirms it. Convinced that Mother Nature must also be largely responsible for this quality of sleep, we are nonetheless delighted that our research into mattress comfort is bearing fruit.
Developed under the direction of a kinesiologist, the Roadloft mattress is the result of research and comfort tests with control groups. Superior quality, with a total thickness of 3.5 in., is composed of 2.5 in. of high density foam (30 kg/m³) superimposed with 1 in. of memory foam, to keep its shape and offer you maximum comfort and support. This new mattress has been integrated into our minivans and SUVs since the fall of 2022. Our mattress for the minivan kit with the extra long bed is 80″ x 48″. Dimensions for the SUV (72 in x 48 in). Covered with a waterproof cover with zipper, machine washable. Our Roadloft mattress will take you far, into the arms of Morpheus! Made in Quebec.
ALPICOOL C40 REFRIGERATOR / FREEZER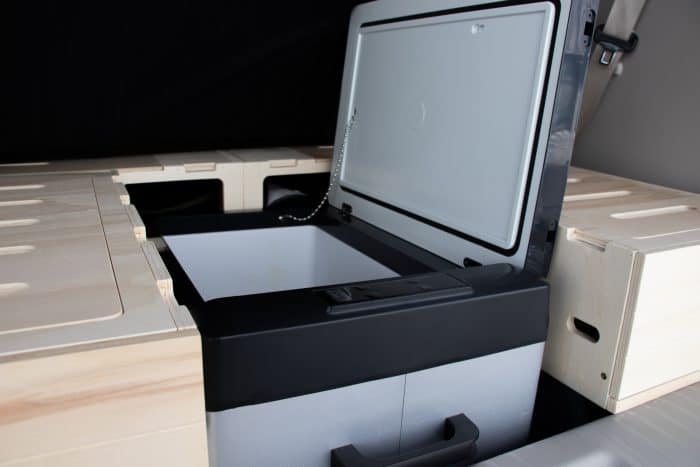 Unlike energy-guzzling electric coolers which must be supplied with electricity continuously, the Alpicool fridge/freezer using a compressor only operates when it detects a temperature variation, i.e. a few minutes per hour. It therefore uses a fraction of electrical consumption and maintains the selected temperature. This is the first accessory we recommend for energy autonomy.
The Alpicool C40 refrigerator can be used both as a refrigerator or a freezer, reaching down to -20°C. In terms of autonomy, connected to the ECOFLOW 720WH power station, the Alpicool fridge/freezer can operate for up to 48 hours* on the ECOFLOW power station. USE IN CAR AND AT HOME: Includes both types of power cables (110V or 12V for connection to house socket, auxiliary battery or your vehicle when traveling).
*Theoretical values, depending on the conditions of use.
COMPACT REMOVABLE MOSQUITO NETS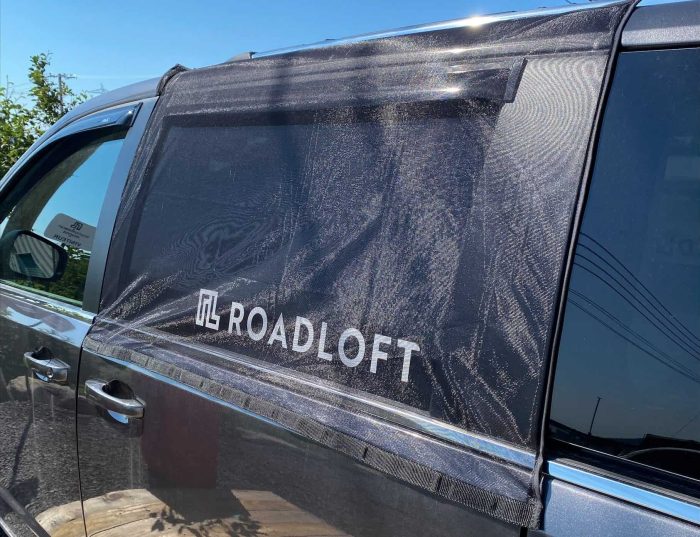 Roadloft x Exxode compact removable mosquito nets are tailor-made according to the specific dimensions of each minivan model. Their quality is appreciated in their finishing details and ensures their durability. For example, unlike the basic models sold on online shopping sites, these compact removable mosquito nets are equipped with magnets sewn inside the curtain to stay in place on the bodywork. Made in Quebec. 2 week production time.
HEATSHIELD INSULATING CURTAINS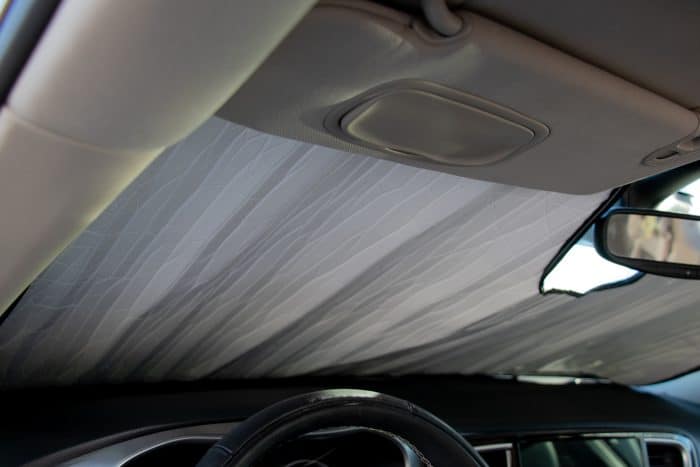 Made of Reflectix, Heatshield insulating curtains limit the heat in the vehicle on hot days as well as retain interior heat on cold nights. And to maintain a temperature difference of up to 11° C between the outside and the inside of the vehicle. Made to measure and laser cut according to the dimensions of the windows specific to each vehicle (minivan or SUV). Exterior color, silver and interior white. The side window curtains have suction cups to securely attach to the windows. All curtains roll up and have a velcro fastener for more compact storage. Made in California.
FOLDABLE SOLAR PANEL 125W ROADLOFT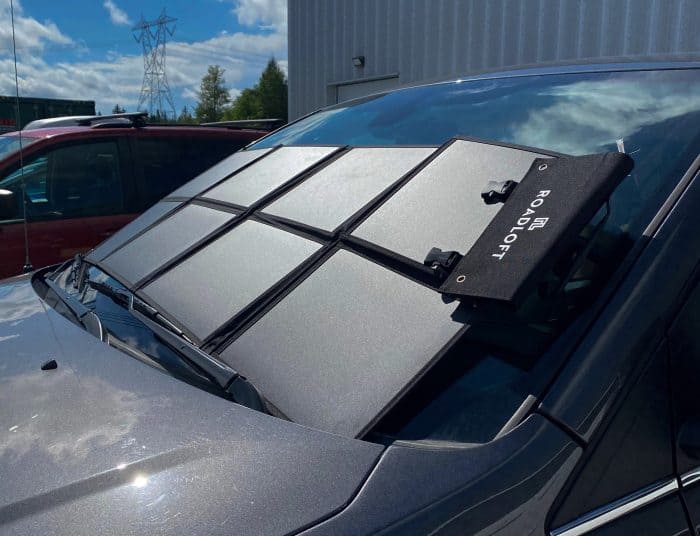 Even under low-sun skies, the ROADLOFT 125W Foldable Solar Panel quickly charges your power station or other accessories. Its practical format allows it to be left on the windshield console when traveling and moved outside for direct exposure to the sun's rays when parked. Also stores very compactly.
ECOFLOW RIVER PRO LITHIUM POWER STATION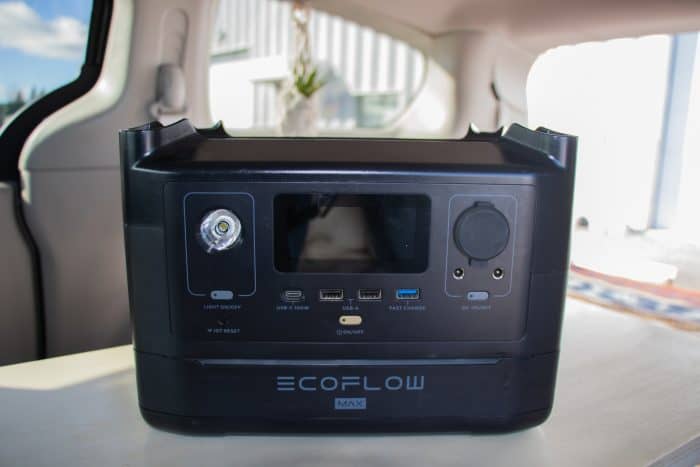 We use and recommend the ECOFLOW RIVER PRO 720 Wh Portable Lithium Battery Power Station for its reliable, long-lasting, powerful and ultra-portable battery for your next road trips or weekend outings. Three AC outlets and 720Wh capacity, powering multiple connected devices. Weighs only 7.2 kg making it a portable power station for on-the-go adventure. Patented EcoFlow X-Stream technology allows for 0% to 80% recharge in one hour and full in just 1.6 hours. With a built-in 600W inverter, the River Pro can power the majority of electronics, kitchen, DIY, etc.
Although we advocate local trade, unable to offer a competitive price to Amazon for this product, we refer you to their site. By clicking on this link, you will be redirected there.
PINNACLE PRO 2 BURNER STOVE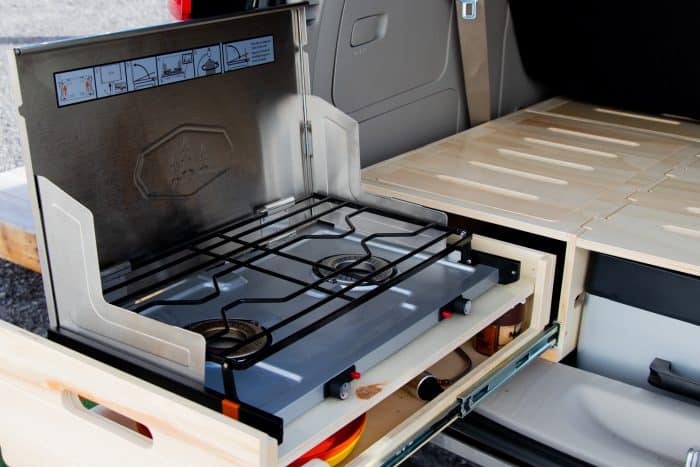 The GSI Outdoors Pinnacle Pro Stove utilizes a unique space efficient design allowing it to deploy upon opening. This is in combination with two high efficiency 11,000 BTU burners and retractable legs. For added convenience, the stove features a dual piezo ignition system and a non-stick, no-boil tray for easy cleanup. Fits all 1lb propane cylinders or LPG tanks with appropriate adapter. Includes: Regulator, 2 Burner Heads, Pan Support, Top Windshield, Side Windshields, Igniter, Handle, 2 Flame Adjusters. Dimensions: 20″ x 12.4″ x 1.4″, 11 lbs.
ROLEF CAR SEAT ORGANIZER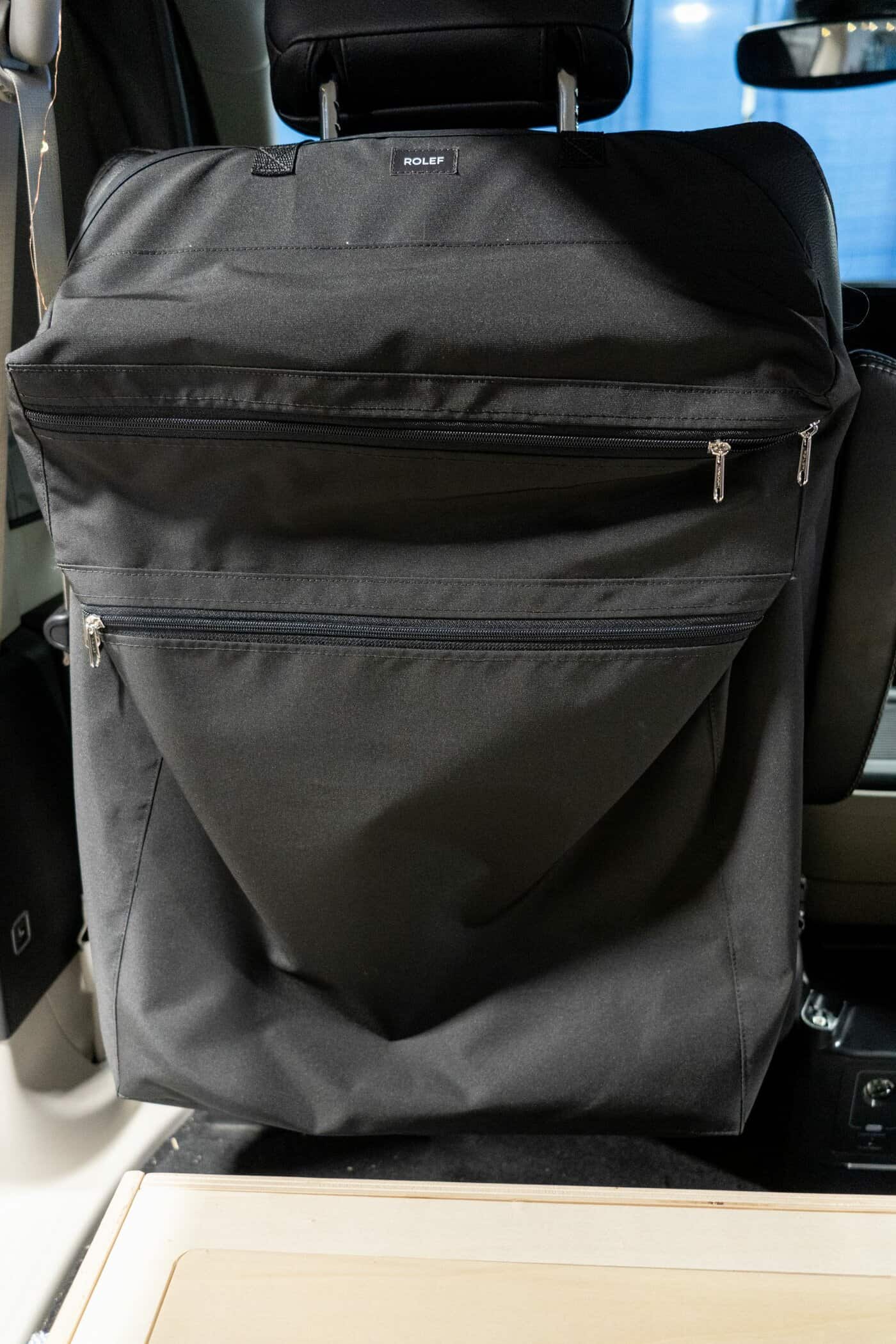 To collect all his small objects and access them easily, use our car seat organizers. Opt for the 5-section model to store your toothbrush, sunscreen, headlamp, card games, rechargeable batteries, etc. or for the 2 section model for clothes, blankets, towels or other large objects. Made in Quebec in partnership with ROLEF.
BUGABOO BASE CAMPER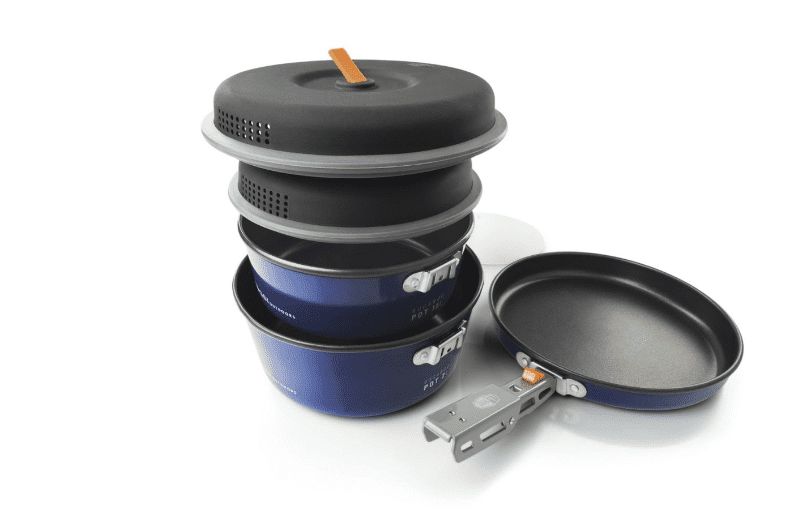 A good cook lets the ingredients speak for themselves. The same goes for good cookware. Simple, yet brilliant, the smaller version of the Bugaboo Base Camper is perfect for two or even three. A few saucepans (1.5L and 2L with strainer lids) plus a frying pan providing even non-stick performance. All for a price as good as blueberry pancakes.
Laurence and Samuel, founders of Roadloft, have been using this cookware since 2016 and Samuel for much longer. In fact, since the age of 15! First for camping, then intensively since the beginning of the Roadloft adventure. After all these years and more than 100,000 km on the clock, it goes without saying that their BUGABOO BASE CAMPER battery has passed the test of time and the road!
JAVAPRESS GSI PORTABLE COFFEE MAKER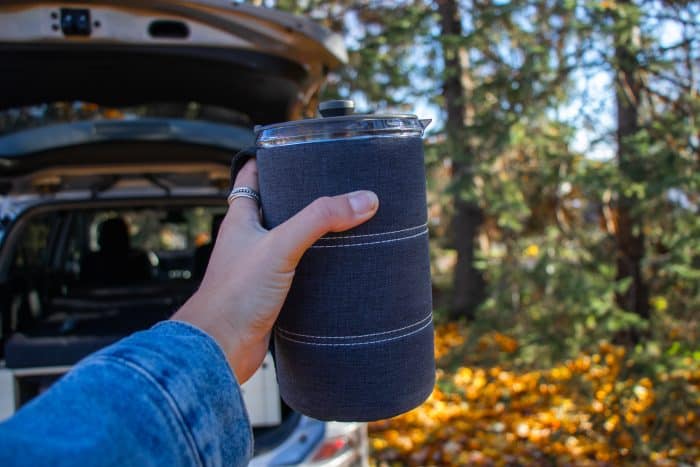 We have had this same coffee maker since 2016. It must have made more than 1000 coffees! Laurence even worked in the Yukon in a roastery during one of our trips. We have developed (almost) a complete addiction to coffee there 😉 This portable system makes it possible to prepare almost a liter of seriously good coffee. The plunger has a silicone ring to eliminate the presence of residual grains or tiny pieces of tea leaves.
Double-walled insulated lid. Made of impact-resistant, BPA-free polycarbonate. Nylon insulated coffee maker cover keeps contents warm during brewing and serving.
GSI SPICE MISSILE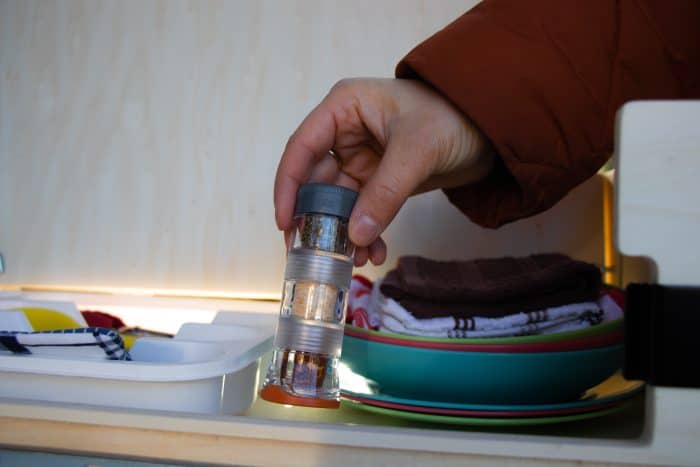 Hot pepper flakes on your pasta or a touch of cinnamon on your morning coffee? Cook savory camping meals using your favorite seasonings with the GSI Spice Jars. Bottle made of copolyester and BPA-free polypropylene lid. Three spice compartments. Cap and waterproof modules screw on each other to preserve all the flavor of the spices and keep them dry. No more spices that take on moisture. Rotating lids give access to contents and remove easily for cleaning. Filler cap for each compartment.
RAKAU GSI UTENSILS SET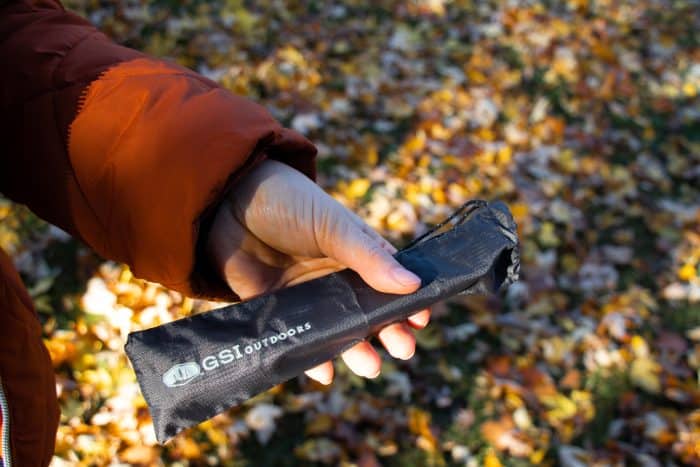 Set of classic wooden utensils. Forest Stewardship Council certified beech wood construction. Finished with natural oil. Storage bag included, made from recycled water bottles.
GSI WATER CUBE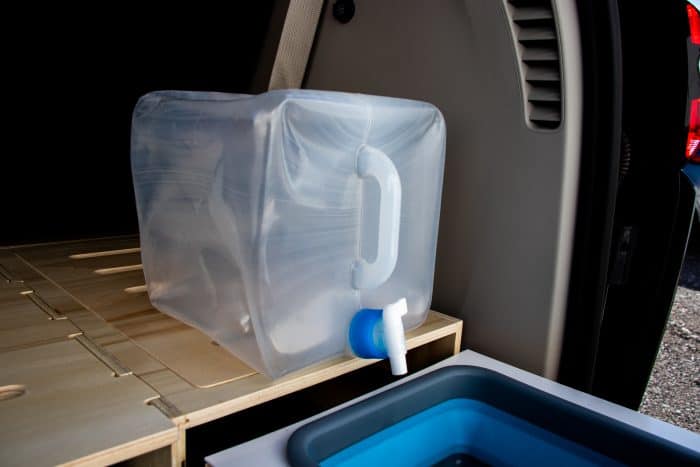 Convenient and durable water tank, perfect for camping and adventure. Built-in handle and ergonomic spigot make it easy to pour and lift. Its flexible shape is perfect to fit into any storage space. When empty and folded, it takes up little space. 10L tank: Measures 8 x 8 x 2.5 inches, weighs 6 ounces.
LANTERN MOJI R+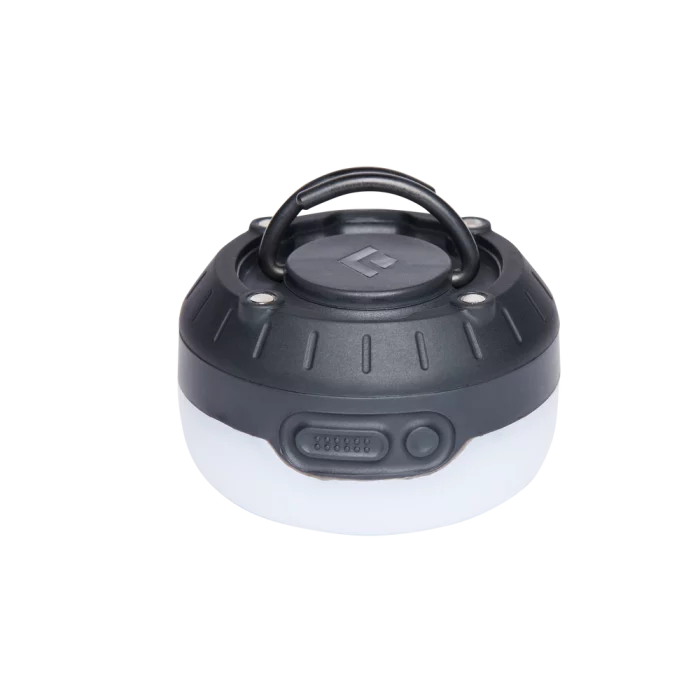 Compact and lightweight, the Moji R+ is a rechargeable, high-performance lantern to take anywhere. Two-button interface, 150 lumens, fixed or flashing white light, wide multicolored palette, relaxing proximity lighting, 4 magnets for easy attachment. Its lithium-ion battery makes it quickly rechargeable on the go or at home thanks to its integrated micro-USB port.
DOMETIC PORTABLE TOILETS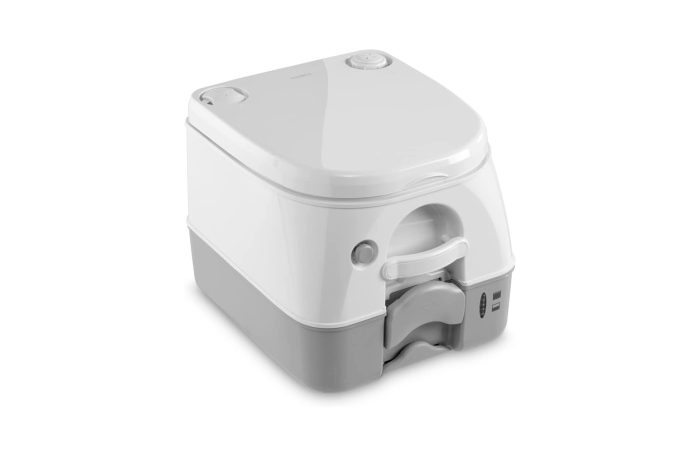 Dometic portable toilets with a durable design. High density polyethylene construction provides strength. Scratch resistant finish, easy to clean, stays like new for years. Comfortable, Dometic portable toilets have an adult-sized seat and lid. Side latches lock firmly for added security. Autonomous water tank. Pressurized push-button flush. Locking lid for safe travel, easy to see tank level indicator. Uses less than 1 pint (0.4 L) per flush. Easy to use. Several models with different dimensions of the same manufacturer available by the referred page. To order this product, click here. On our product page, you will be redirected to the Amazon website.
ROADLOFT FIREFLIES – ROLL OF SOLAR LIGHTS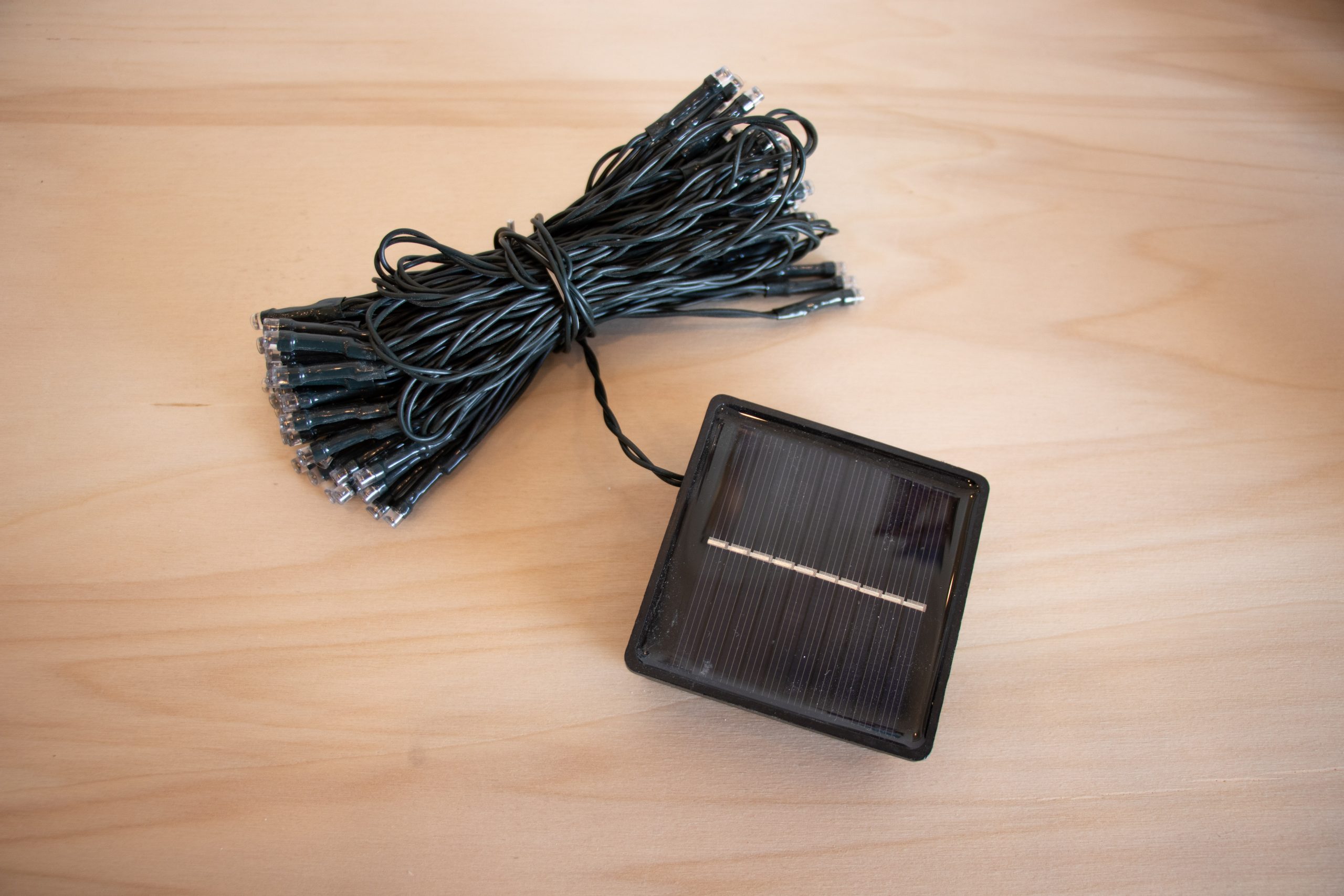 Add a warm and joyful atmosphere to your vehicle with our roll of Luciole mini solar lights! Composed of 80 LED bulbs (delivered in rolls of 8 meters) to cover the entire interior of your vehicle, our system offers 8 different light effects for all occasions.
It includes a polycrystalline silicon solar panel and a lithium battery. This mood lighting equipment also comes with a ground stake if you want to charge it outdoors and illuminate your campsite! We use this model in our Roadloft equipped vehicle and place the small solar panel on the windshield to charge during the day. 5 hours of recharging in the sun for 6 hours of continuous autonomy!
As the solar panel is photosensitive, it will not light up as long as it perceives light. To open its lights during the day, simply cover the solar panel or place it face down. Enjoy an intimate atmosphere for beautiful, comfortable evenings!
NEW – THE ULTIMATE ESSENTIAL OIL KIT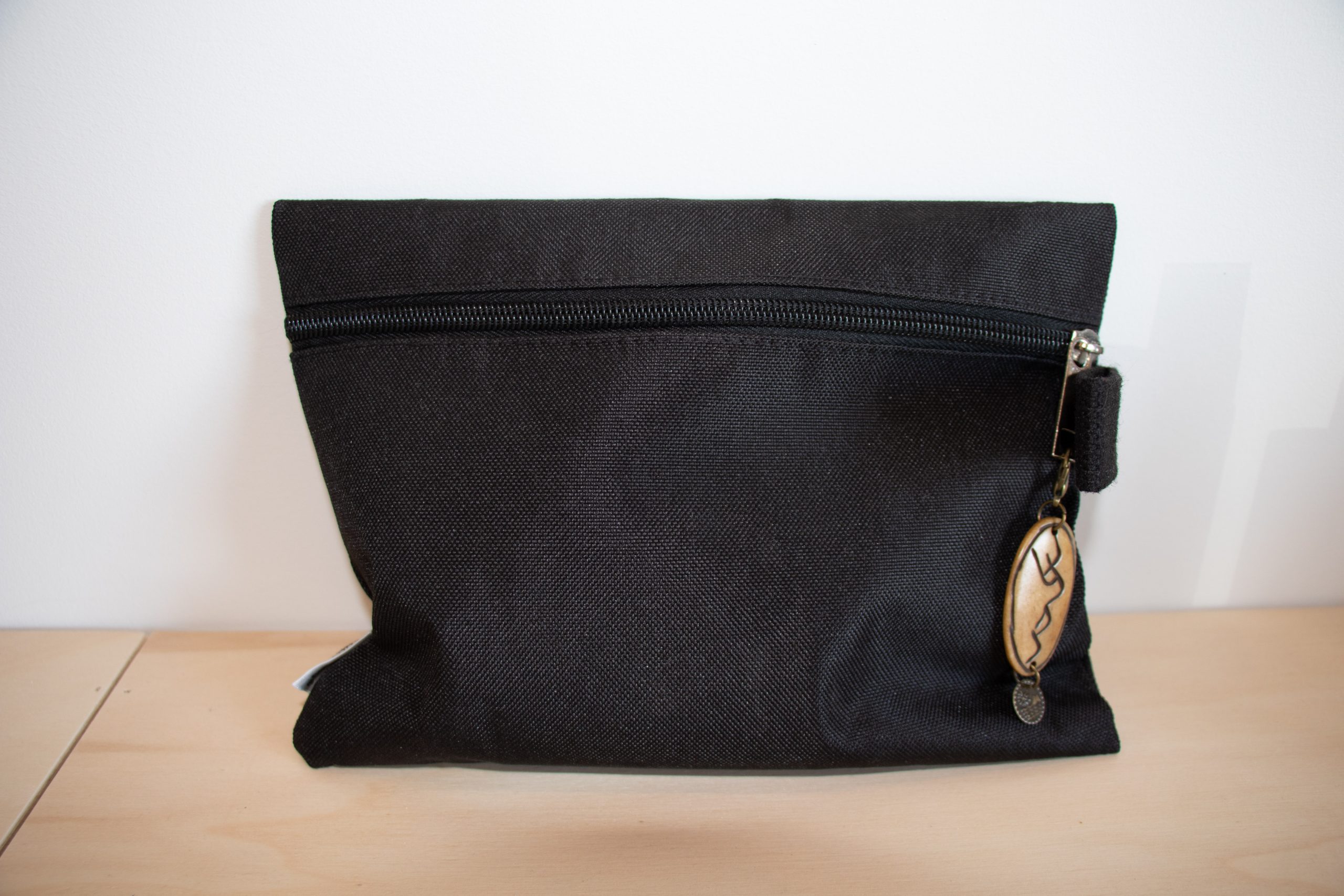 Seven items make up this compact kit intended for lovers of essential oils and natural products.
Healing Balm, Sports Gel, Sun Balm, After Sun Spray, Outdoor Spray, Natural Lip Balm, Organic Peppermint Oil.
GSI CAMPING SHOVEL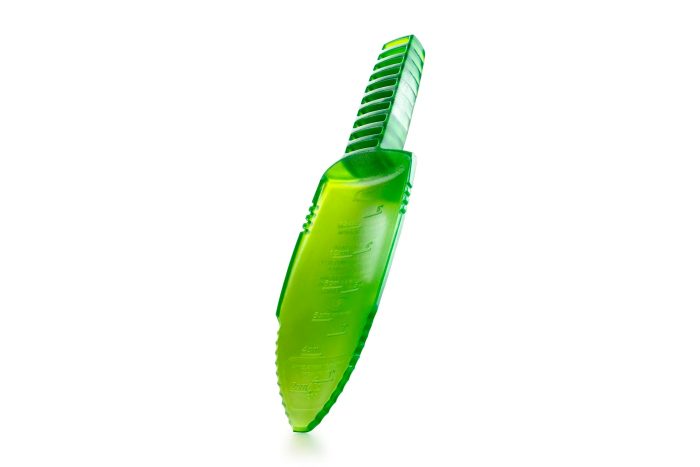 Sure-grip serrated camping shovel. This camping shovel is designed to be the simplest and strongest on the market. Sharp serrations easily cut through tangled forest vegetation. An indispensable tool when you go far into the forest, off the beaten track, and want to bury organic waste.
ROADLOFT T-SHIRT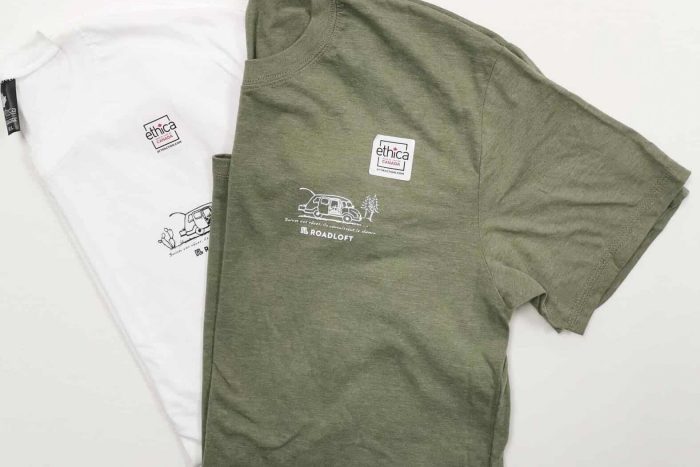 Made of organic cotton (50%) and recycled polyester (50%)! Unisex model. Colors: green, white. Made and printed in Quebec.
INFLATABLE PADDLE BOARD – NANO ZIP AIR 9'8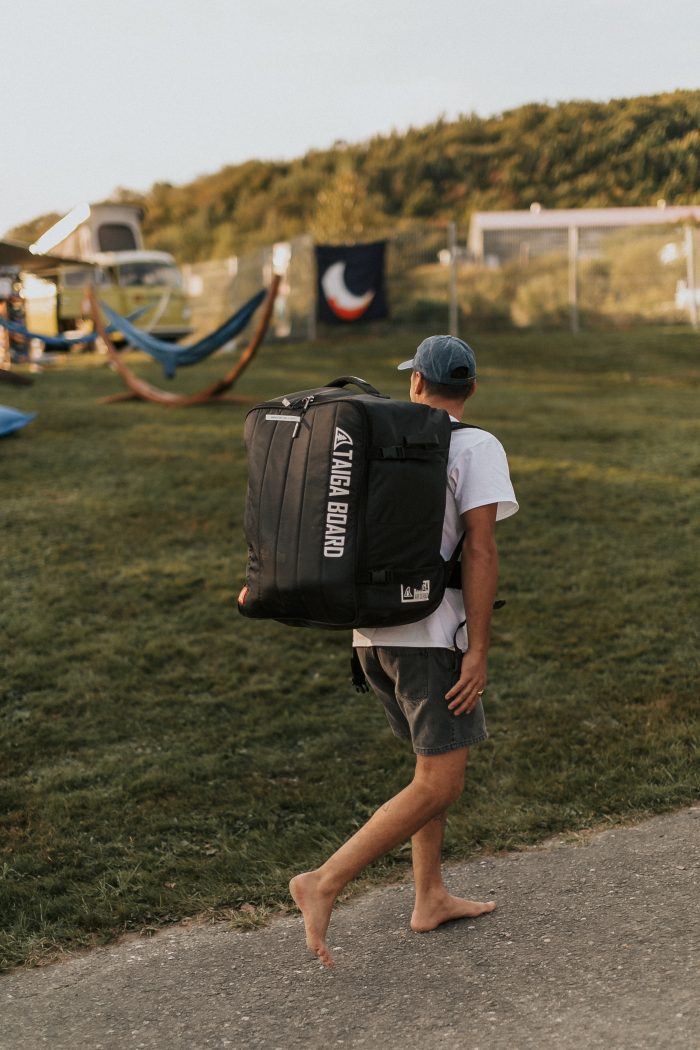 The NANO is the compact model that has all the advantages of TAIGA inflatable paddle boards, in an incredibly practical small format! 50% the size of a regular inflatable board when stowed. Can be inflated up to 20 PSI for maximum rigidity. The board alone weighs 15.6 lbs (including the complete kit: 28.6 lbs). Perfect for those who live in small spaces. Take advantage of a 20% promo code with our code OFF20ROADLOFT. You only have to apply it after adding the Nano board to the cart, order here. Product available in Canada only.
These are the essentials we use and recommend, but go by your needs, one thing at a time. There you have it, well prepared and equipped for adventure!