People often ask us if we feel trapped in our little camper. The answer is simple. Since we've optimized its conversion and have both an interior bench and table AND an extra-long double bed, we don't feel cramped at all.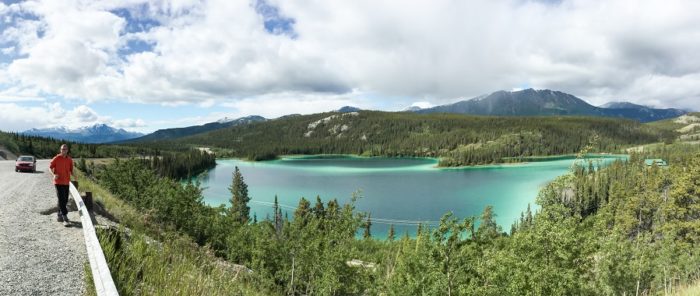 It must be said that when we travel by van, we spend most of our time outside. We visit, we hike, we explore… We are always exposed to the beauty and immensity of the landscapes. It's always comforting when you get into your little love nest!
The importance of an interior table and bench seat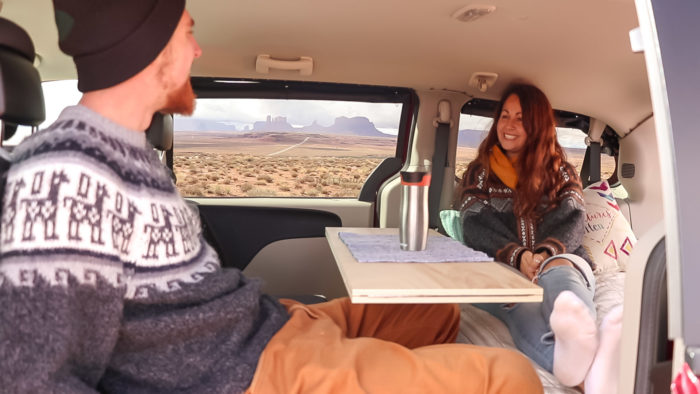 The fact that we now have 2 major interior configurations. A bench and table during the day and a large bed that takes up all the space in the evening really makes ALL the difference.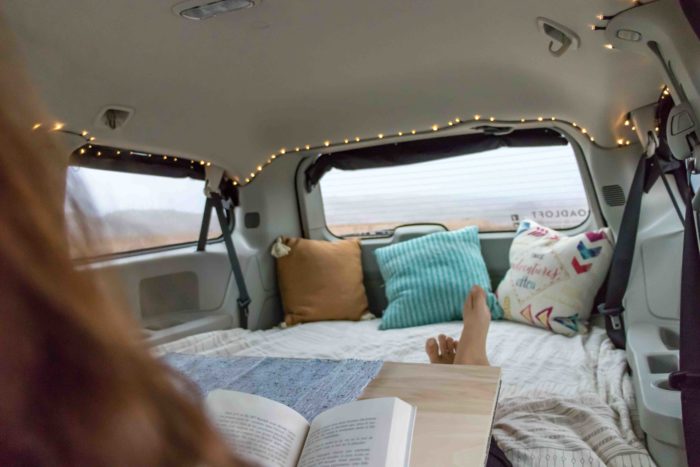 Whether it's cool or raining outside. The interior table and bench provide us with a lot of comfort. It allows us to go about our daily business without having to be in bed.
Its importance should not be overlooked. The interior table allows us to eat, work on the computer, play cards, and this in all comfort with a beautiful view as a bonus!
On a few occasions last summer, we even invited our friends with whom we were camping in the van in the evening to play cards. There were too many mosquitoes outside!
The outdoor kitchen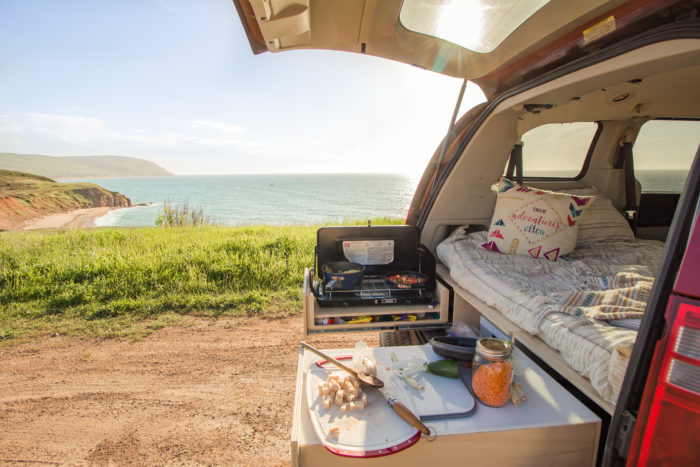 In addition to avoiding the smell of food inside the camper, our back kitchen allows us to stand and have a comfortable height for cooking.
What we particularly like is the fact that we have access to it at all times, without having to make long manipulations. We open the drawers and voila, we have a kitchen with two-round burners and a countertop with a cutting board and a sink.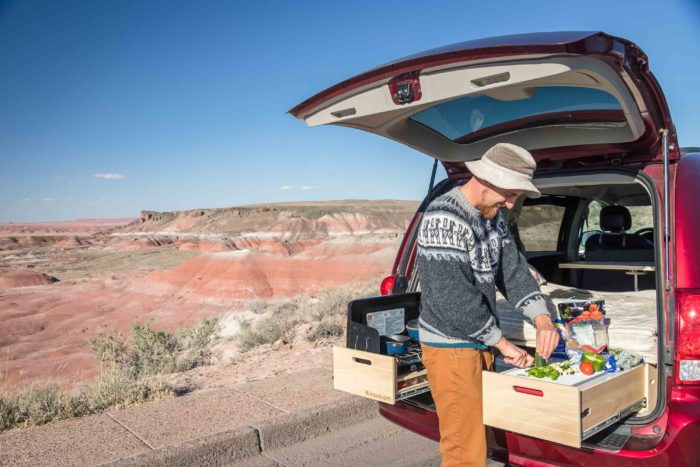 Then I can guarantee you that there's no better feeling than cooking in the back, sheltered under the trunk, in front of the great outdoors!
Accessibility at all times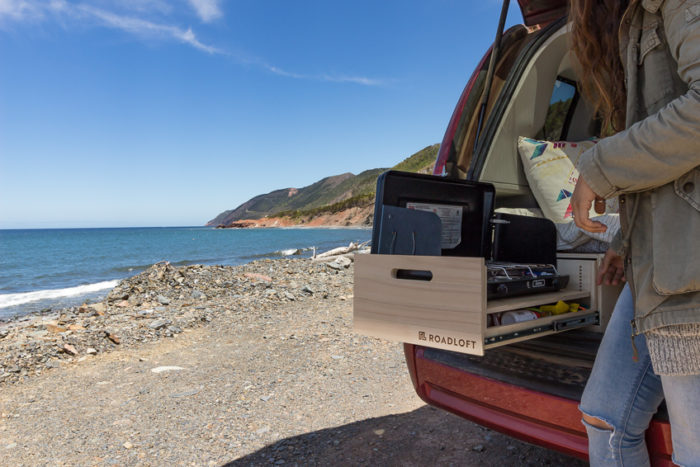 When everything is in its place AND everything is easily accessible, you don't really feel like you're in a "small" RV. In our van, everyone has their own personal space. We each have a 40L drawer to store our clothes. Then, we store our outdoor equipment (backpack, camera, yoga mat, etc.) in the 170L central storage area. Finally, in the back, we have a lot of storage space for the kitchen. This allows us to be self-sufficient for about 5 to 7 days (and we eat a LOT of fresh food). Finally, we have more than 506L of storage in the van with our kit, so we don't feel restricted!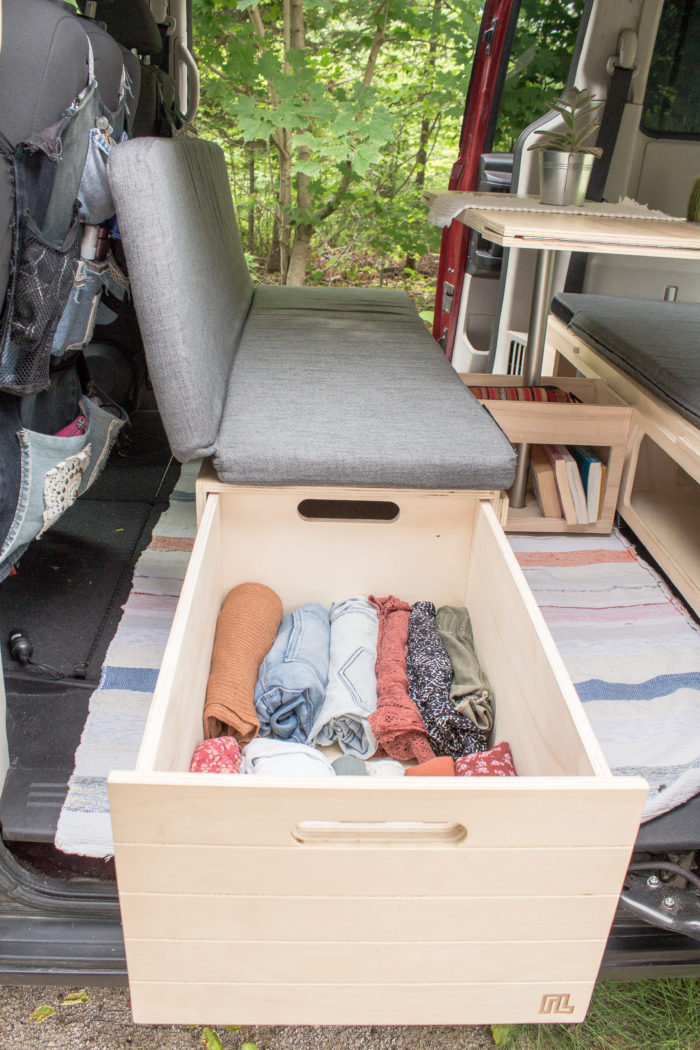 Last summer, we were just comparing the space capacity of our minivan with the westfalia of travellers we met on the road. Our new friends told us that we had more space than they did, both in terms of bed width and storage space.
As little manipulation as possible
What helps us feel good about our camper is that we don't have to constantly manipulate to access our things or features.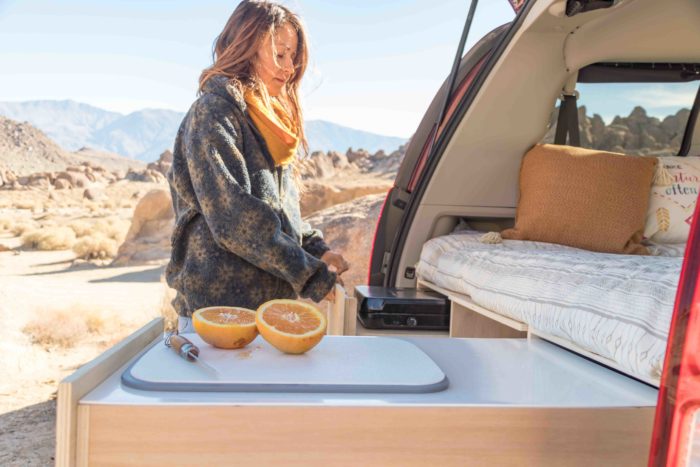 For example,
you can turn the bed into a table and bench in the morning in one easy step;
we still have access to our kitchen all we have to do is open the drawers;
Each of the storage compartments is accessible from both the top and side hatches.
You have to understand that in a small camper if you have to do long handling, it will quickly become an irritant. And we don't want irritants!
So if you're considering traveling in a minivan, don't overlook the importance of functionality as well as storage accessibility. Your experience will be optimized!
Remember, less handling = more time to enjoy!