Our Best Recipes
In this post, we will be showcasing some of our favourite recipes, featuring ideas shared by fellow RoadLofters on the Roadloft van life group. In our minivan, we are able to pack a food supply of about one week. Our pantry allows us to take a lot of dry food with us, and we can store lots of fresh ingredients in our 40L refrigerator. It's absolutely possible to cook up tasty meals in a van. On the other hand, we usually attempt to limit the number of dishes we use, since we can then spend more time enjoying our meals.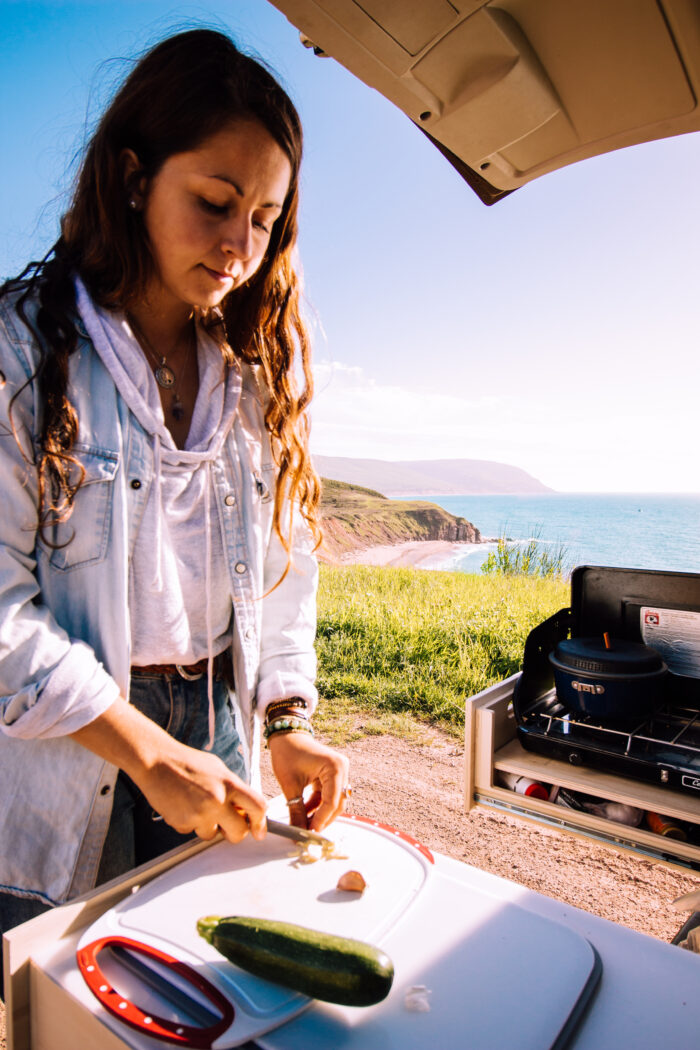 Summer recipes
Tofu, Red Bean or Chicken wrap
You can season your protein of choice with Mexican spices (fajita style) and throw in peppers and onions or rather opt for a tzatziki sauce, cucumbers, tomatoes and feta cheese. It's always a hit and is so easy to prepare!
Main-course Salads
There are probably as many salad recipes as there are people reading this article. The great thing about salads is that you can switch things up a bit every time and still eat fresh food. Why not be inspired by seasonal vegetables or local produce of the place you're visiting?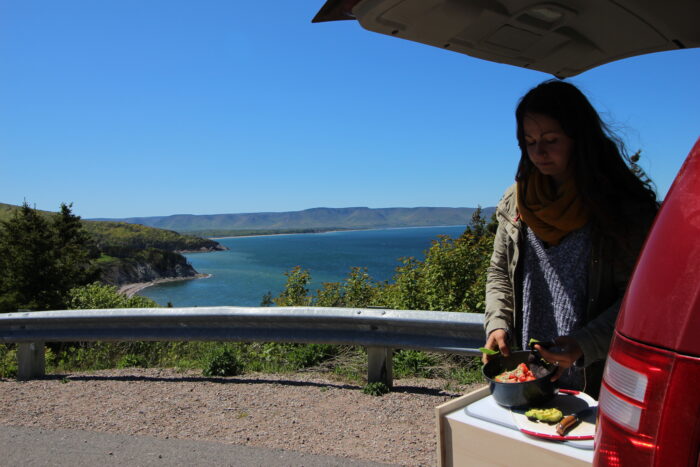 Grilled Meats with Vegetables en Papillote
Whether it's a chicken breast, beef skewer, flank steak or tofu, grab the protein of your choice. Add your favourite marinade and serve with seasonal vegetables grilled en papillote. It's an easy meal to make while camping and a reliable crowd pleaser.
Home-made Pizza
Whether you make your dough ahead of time at home or buy it at the grocery store, homemade pizza is easy and always delicious, be it grilled on your stove or cooked over the fire. Yum! Check out our Reels on Instagram for inspiration!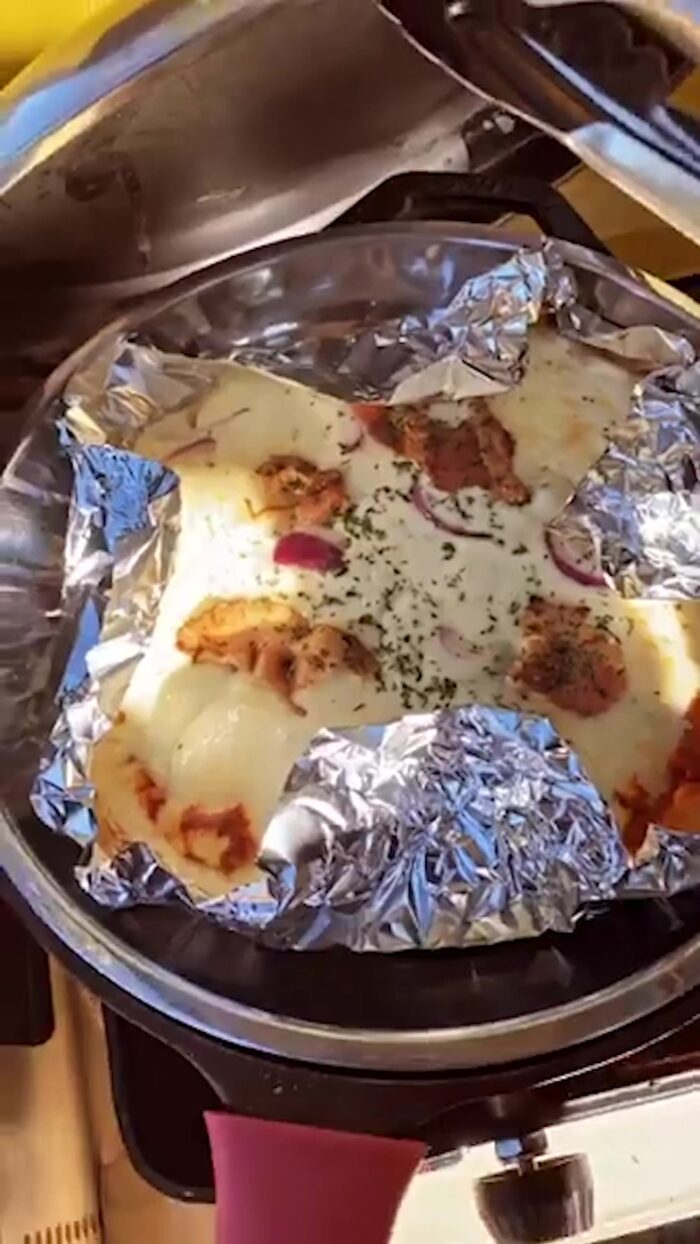 Fall recipes
Since traveling in our mini-van allows us to extend the camping season well into October, here are some comforting fall recipes to warm you up.
Tofu or Butter Chicken
This Indian dish is a fantastic fall meal. Whether the sauce is homemade or store-bought, it's easy to cook while camping, just serve it along a scoop of rice.
Main-course Soup
Just like salads, the recipes for hearty, filling soups are endless. They are incredibly easy to prepare ahead of time at home and then heat up while camping. When you've been out to enjoy the fall colours and the cooler weather, it's so satisfying to come back to your little house on wheels in the evening and to warm up with a hearty bowl of soup.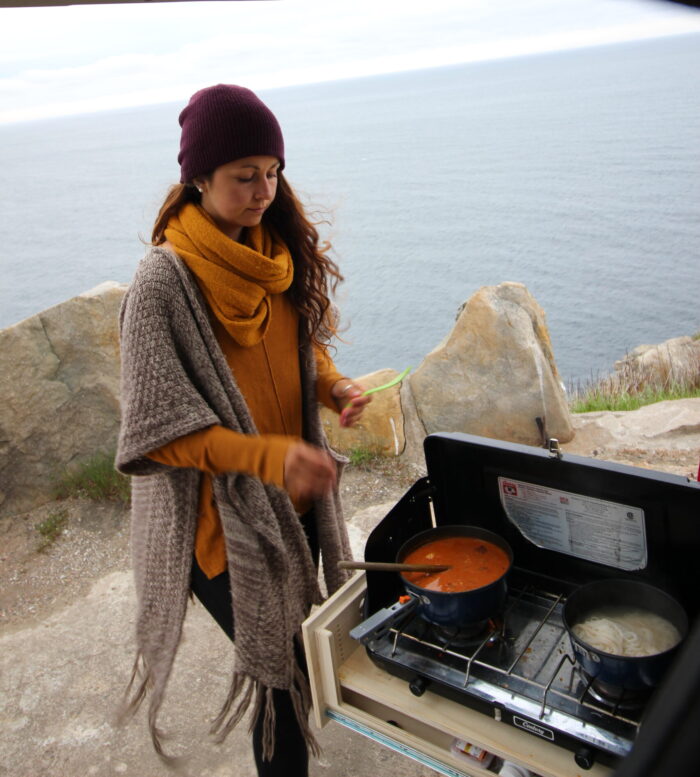 Organizational tips
Our first tip is to let yourself be inspired by local foods. You can buy ingredients at farm or market to support local businesses and cook them up the very same day, saving on storage space in your pantry and refrigerator.
Our second tip is to pack sauces and ingredients in reusable dishes and then use them again and again to store leftovers. We use the Bugaboo Base Camper Cookset, which take up very little space in the van.
Third, organize your spices! We reuse small pill containers or buy small jars at the dollar store, label them for convenience, and store them right under the stove.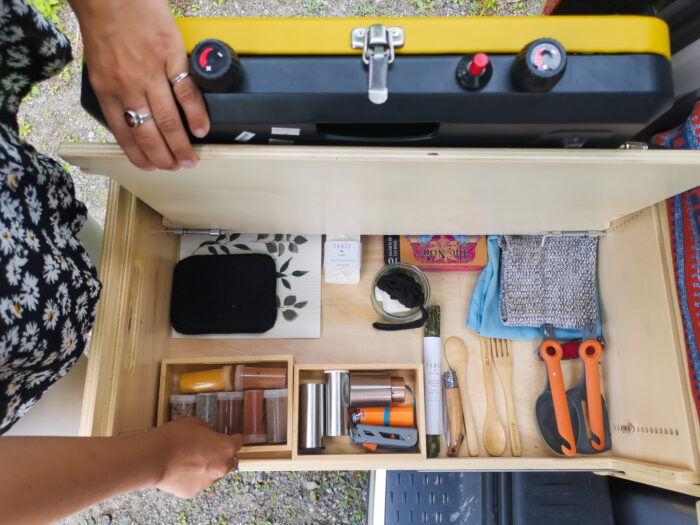 The final tip comes from fellow RoadLofters: prepare meat ahead of time and vacuum seal it. There are multiple reusable, zero-waste and eco-friendly vacuum bags available on the market.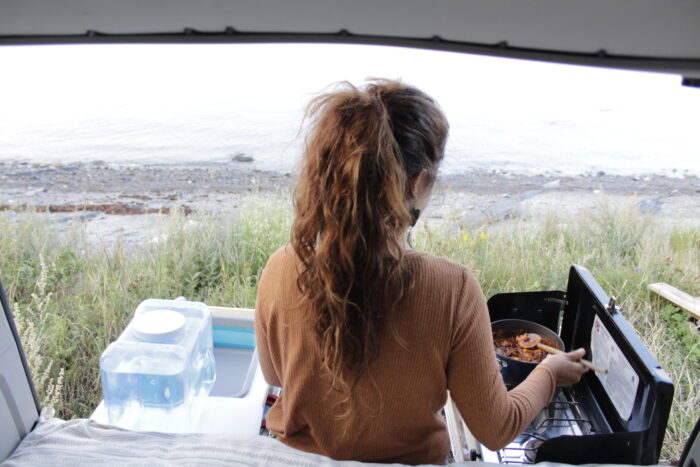 We hope that you eat well on the road this summer. We're working on a broader post about organization, to make packing your RoadLoft kit a little easier, so stay tuned! Eating well on your getaways is one of the greatest pleasures of travel!