RoadLoft is born from our knowledge of the real needs on the road. This article presents the 10 essential criteria which guided our conception of a sustainable non-permanent transformation kit.
In 2016, back from a long trip to India and Sri Lanka, we took off to explore the Canadian and American West. We are designing our first transformation kit from mini-van to camper in which we will live daily for more than eight months from northern Yukon to southern Arizona. Between that first trip and today, several other extended trips have followed, with constantly improving amenities and materials.
This series of road tests and extended life on board and the invaluable expertise of an industrial designer, counting thirty years in the development of innovative products, were the keys ensuring us to launch on the market an instant mini-van transformation kit meeting the essential criteria. This makes our kit the best solution : ingenious, accessible, sustainable, practical and eco-responsible.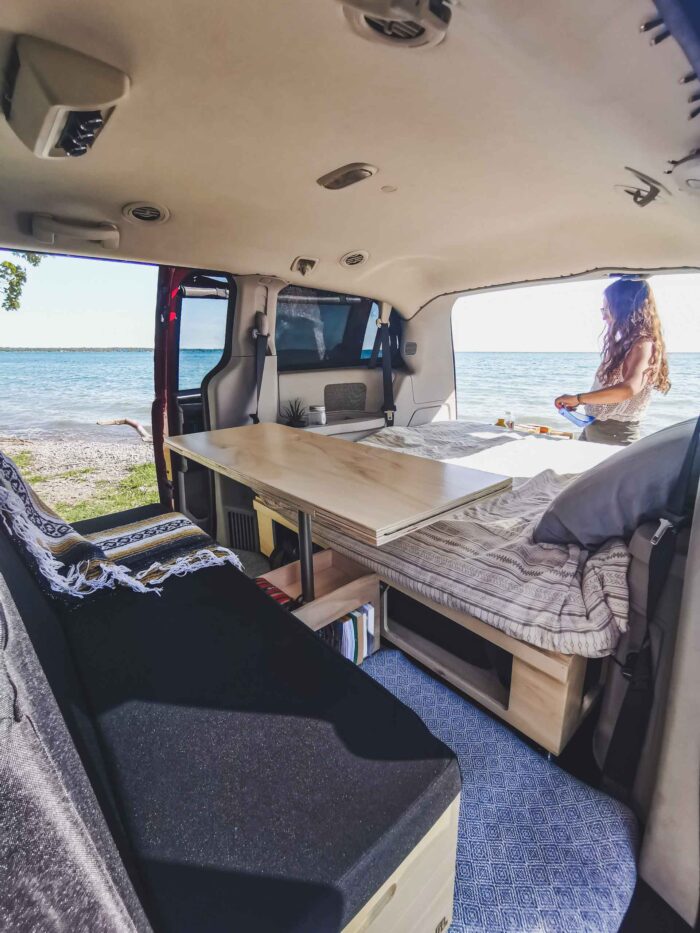 1. Strong but light wood
To the mini-van conversion kit, each traveler also adds equipment and luggage that add up in total vehicle load, suspension components, engine and fuel consumption. All of the components in the RoadLoft kit weigh as little as 56 kilograms.
2. Moisture resistance
On the road, we passed people who had become ill with mold fumes from equipment that was poorly protected from humidity. Therefore, we have systematically taken care to eliminate any risk on this side. As a material, what could be better than the wood used for the furniture of sailboats? The RoadLoft kit is made from marine grade poplar wood, the strong, lightweight and ultra-moisture resistant solution.
3. Superior quality and ecological varnish
This is an extremely important and significant element to ensure a sustainable conversion over time and which also ensures a healthy environment. Your mini-van-camper will be exposed to various outdoor conditions, including humidity and large variations in temperature. It is therefore essential first that the wood is protected with a water-resistant varnish to make it free from mold. The protection of the varnish must be of external quality and non-toxic for your health, because it is exposed to great heat. While sleeping in your van, you must be safe from any toxic fumes.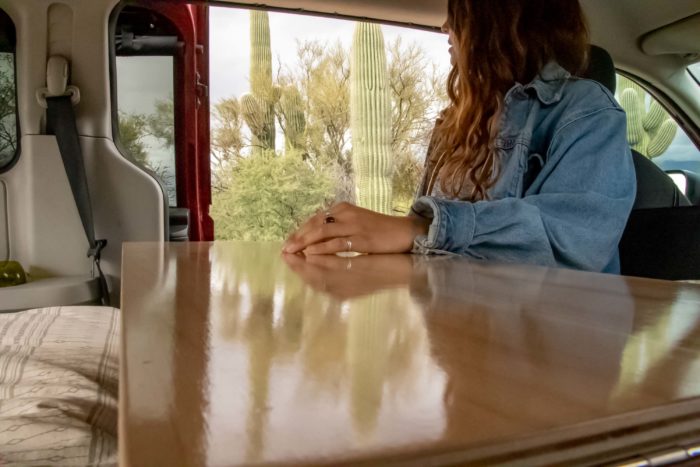 4. Protection of all cutting edges
A chain is never stronger than its weakest link. What is a varnish good for if not applied to all surfaces? We have seen conversion kits made from pre-varnished wood but where cut edges were not before assembly, making them vulnerable to mold. While this is a cost saving in manufacturing, it leaves the door wide open to moisture, mold and its very damaging effects on the health of occupants. An unprotected kit will even be thrown away if mold sets in.
A varnished kit and protected in its entirety is therefore a non-negligible element when you want to keep it for several years, without having to worry.
5. The ventilation of wood and mattress
A design that promotes ventilation allows the wood and mattress to breathe, once again preventing moisture build-up and the creation of mold. Our RoadLoft design © with its top air vents is optimal in this regard.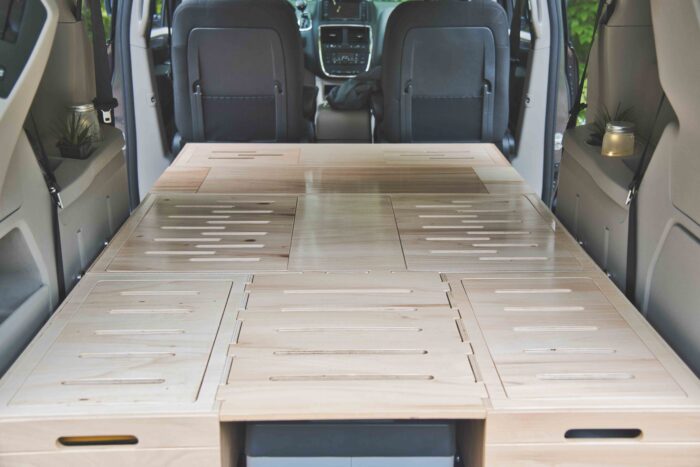 6. Avoid mechanical parts
Simple assemblies should be favored and mechanical components avoided as much as possible. As our designer often says: "What is mechanical breaks". It is for this reason that the use of hinges, screws, etc. should be limited, as this will tend to break with the vibration of the road. When it comes to the inevitable, like drawer slides, no compromise, we go for premium hardware and assemblies designed to withstand road vibration and extended use of the kit.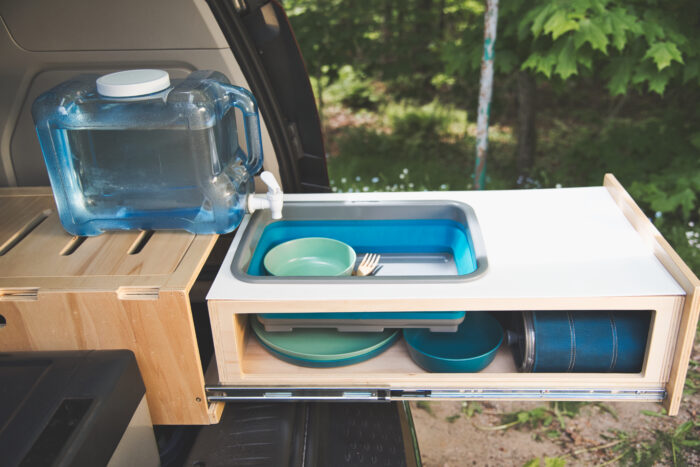 7. The ease of use and multi-access of an ingenious design
Another essential criterion in choosing your conversion kit : its ease of use. On the road, the slightest manipulation can become irritating. You should therefore favor a design that allows easy access to all your equipment. So think about looking not only at the storage space, but also how you will access it. In the cramped environment of a mini-van, different ways of accessing storage spaces in order to adapt to all situations is greatly appreciated!
For example, in their RoadLoft kit, our customers have access to their clothes in two ways to meet different contexts. The first with a drawer that gives quick access to personal belongings from the outside without having to rummage under the bed platform or open bags. The second, directly under the bed, without having to open the doors of your mini-van. This way you can change in the morning in the privacy of your van or do it in the shelter of the rain.
We repeat, the slightest manipulation can become an irritant on the road. It is therefore essential to limit handling to transform the mini-van from one configuration to another. Less handling, more comfort in each configuration!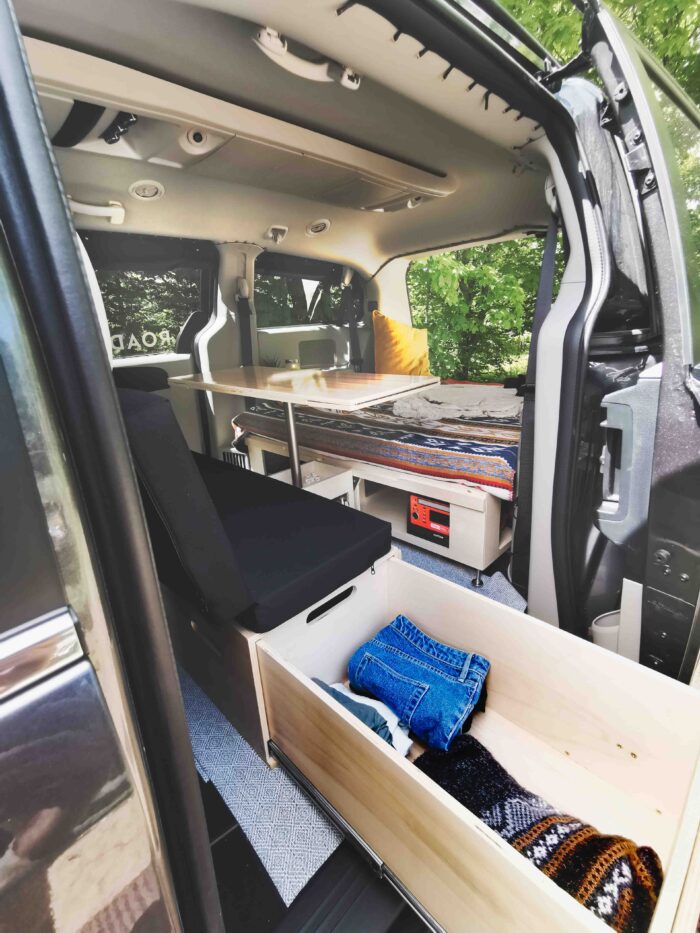 8. Queen-size bed, high-density mattress
If you are 6 feet tall, you will not be comfortable in a bed that is too short. The comfort of the mattress is an important feature, as the majority of the time spent in your van will be sleeping there! Remember that a greater thickness does not mean comfort. It is the density that is important, because it is this which allows to have a foam that keeps its shape and does not sag over time! The ideal mattress is of high density. For example, the mattress of RoadLoft is HR 30 kg / m³. Finally, make sure the mattress cover is waterproof.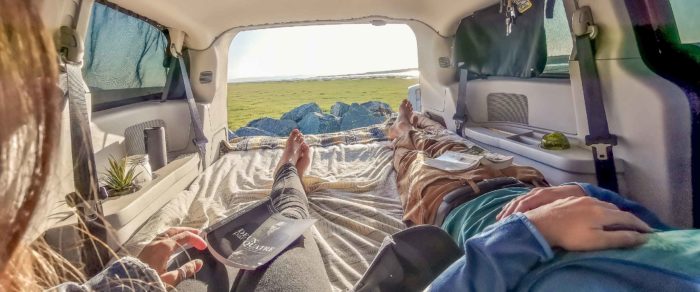 9. Visual clearance at the rear
A final item that can influence your decision is the clear space behind your vehicle. In its daily use, when you are stopped in front of a grandiose view, you will want to enjoy it. Whether sitting at the table enjoying a good meal, or simply lying in bed, take the time to contemplate the magnificent landscapes that nature offers you.
10. Transportability
The RoadLoft conversion kit is divided into 5 modules. The weight of the heaviest (the bench that many leave permanently in the mini-van) is only 22 kg, the other modules being 12.25 and 6 kg. So it's easy to take it out of its storage to install it in your mini-van and store it back from a trip or for the winter season.
All these criteria together, you will be able to enjoy your mini-van transformed into a camper for a long time. Combining all these qualities is a little more expensive, but in use and in the medium term, the investment is quickly materialized by our customers.
You can also download the list of criteria for your shopping here.
By Laurence Dufour, co-founder of RoadLoft