Innovative design
A conversion designed by experienced travelers to meet the real needs of the road. A comfortable and ergonomic kit designed with the help of our expert industrial designers.
Get out of routine and travel more often
Quick install
A spontaneous desire to go on a getaway? It's possible! In 5 minutes, your everyday vehicle is transformed into a camper with your Roadloft instant conversion kit.
Removable conversion
Your Roadloft conversion kit is vehicle independent and does not require permanent modification. So you can use it with your rental car without worries. And when you change vehicles, you keep your conversion kit.
One kit, several layouts
Extra-comfort bed
An extra-long bed, a sectional mattress made of high-quality, high-density foam for optimal support and comfort. And most importantly, the luxury of sleeping dry no matter the weather!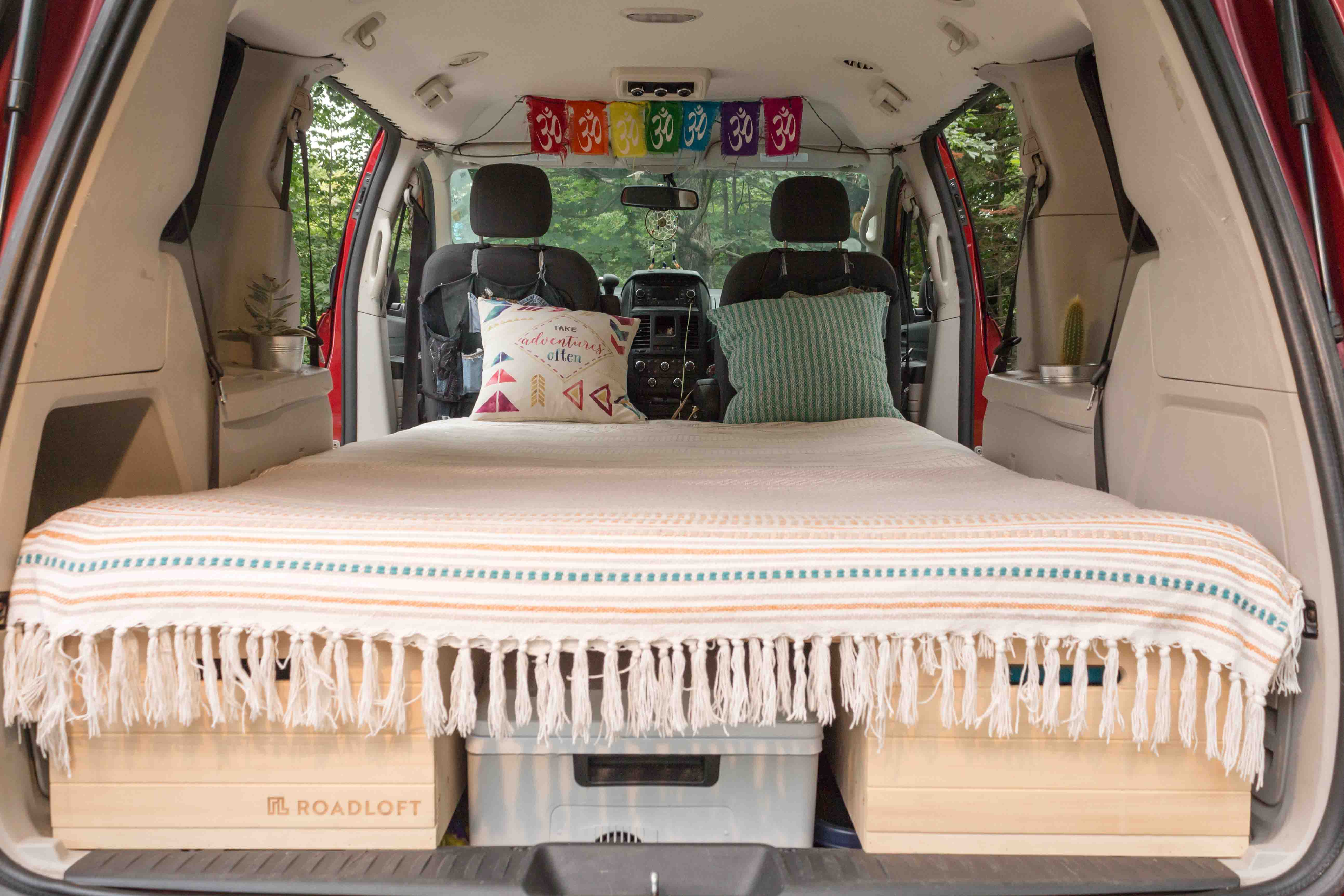 Bench and table
Turn the bed into a bench and table space to work, eat or play in comfort. Be up to 4 people sitting at the table!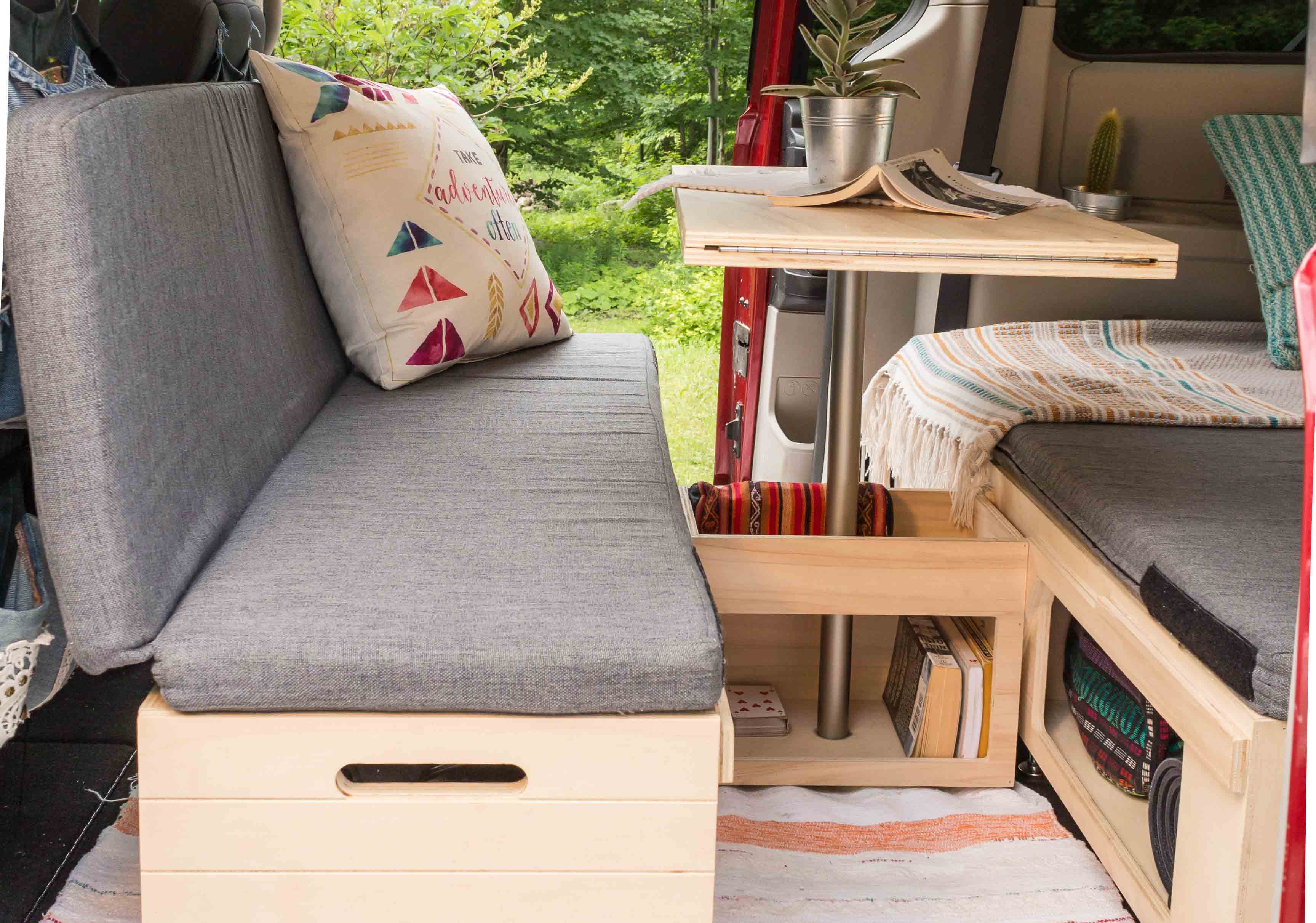 Well thought kitchen
A drawer for a two burner stove with adjustable and removable shelf for more access to storage.
Space for a big cooler.
A countertop drawer with retractable sink and integrated cutting board.
Space under the two drawers for storing food and water tank
All under the tailgate for cooking under rain or sun.
Group travel
Your Roadloft conversion kit allows you to keep four seats while traveling.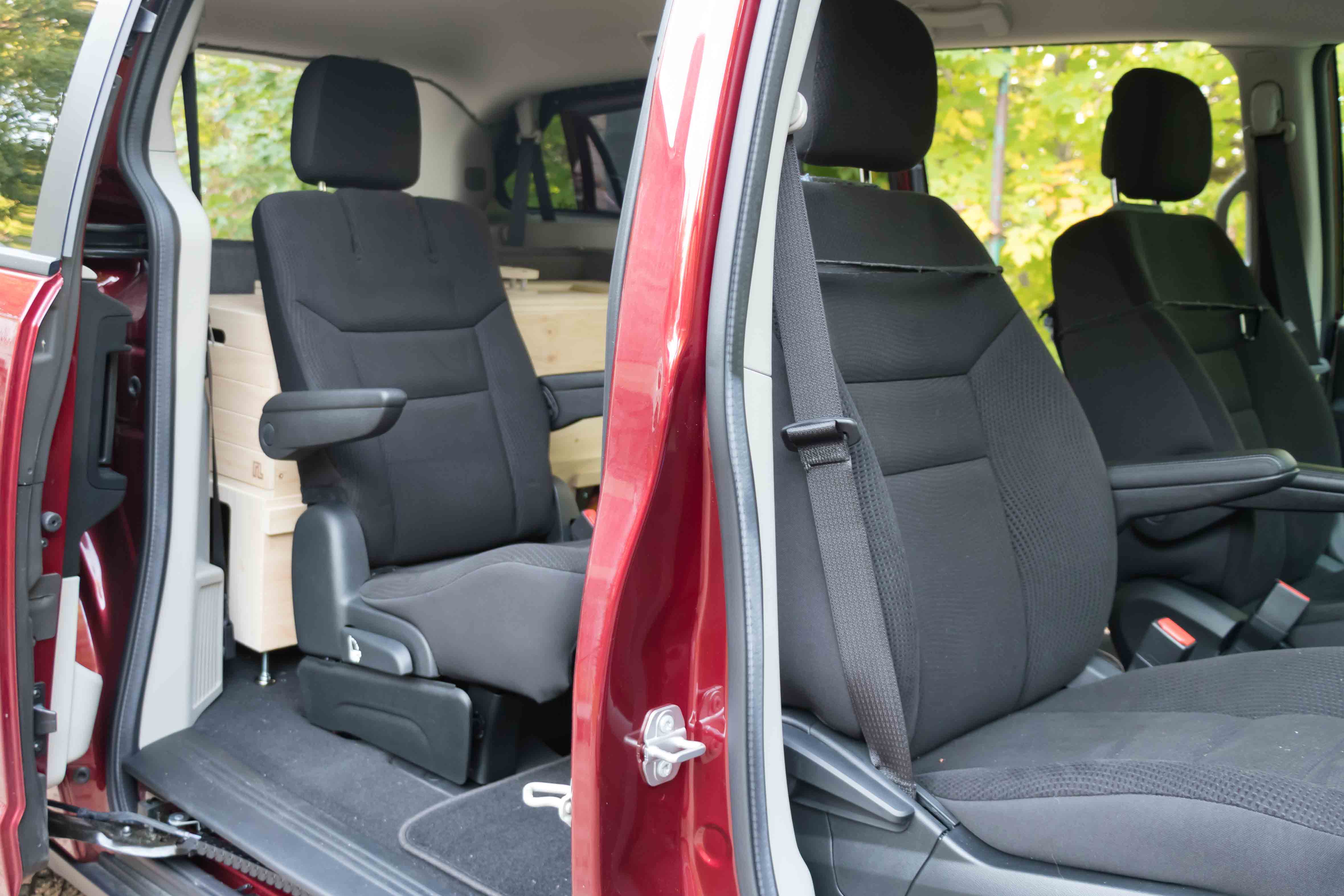 Space optimization
Maximized storage!
Two drawers for your clothes, a bookcase, a large central storage and two kitchen drawers. No concessions for your luggage!
Optimized access
The storage of the Roadloft system is designed to be easily accessible. With its removable surface hatches, you always have two ways to access your things.
Compact storage
Your Roadloft conversion kit gets very small when not in use. The sections fit into each other, for easy storage.
Design
Durability
A solid design, a kit entirely made of sustainably planted wood and a premium high density foam mattress.
Lightness
Entirely made of poplar, selected for its lightness, to facilitate handling and limit gasoline consumption!
Environment
Your kit entirely made of FSC and PEFC certified wood is protected by an ecological varnish. Your kit is breathing! Because its design allows wood and mattress aeration, in order to offer you a healthy interior!
Comes ready to use
Your kit is delivered to your home, already assembled and ready to make you live memorable adventures!
Possible amenities
1

Bed (2 people)

2

Bench and table (4 persons)

3

Group trip (4 people)

4

Tailgate kitchen
Compatibility with vehicles
Dodge Grand Caravan
Toyota Sienna (adaptation needed: mention when buying)
Honda Odyssey (adaptation needed: mention when buying)
Kia Sedonna (adaptation needed: mention when buying)
Delivery and installation
Kit delivered at home, already assembled and ready to use.
Quick installation (less than 5 minutes) and easy (requires only a flat screwdriver).
Non-permanent modification.
Included in the conversion kit
Varnished assembled kit
Custom sectional mattress
Countertop
Integrated cutting board
Retractable sillicone sink
Curtains (5 rear windows)
Dimensions and weight
Installed in the vehicle: 83 "L x 47" W x 11 "H
Stored at home: 47 "L x 26" W x 20.5 "H
Weight: 56 kg
Storage spaces
* each storage space is also accessible from above (removable panel)
Front:

 2 drawers x 40L
1 library 9L

Central: 170L
Back :

1 countertop drawer with integrated cutting board and folding sink 32L
1 drawer for a 2 burner stove 32L (with adjustable and pivoting shelf) * stove not included (max 18 "L x 14" W x 6 "H )
Space 24 "L x 17" W x 18.5 "H for 40L cooler * if rear seat removed (otherwise 24″ L x 17 "W x 8.5" H)
Storage space under drawers sink and burner * if rear seat removed
Colors
kit
Natural wood
Curtains
Black (Open)

Black (Closed)
MATTRESS
Black
Properties
MATTRESS
Sectional mattress 80 "L x 48" W x 3 "h High density polyurethane foam (HR25 kg / m³).
Waterproof and machine washable cover with zipper
WOOD
Poplar plywood, ultra light hardwood. PEFC, FSC, LFE certification
and Carb Phase 2
VARNISH
Ecological, very low VOC content
COUNTER TOP AND CUTTING BOARD
CURTAINS
Black polyester, suction cup fastening system
DRAWER'S SLIDES
100 lbs capacity per drawer