More freedom
Your RoadLoft is always ready to use.
Everything is designed to simplify your life and provide you with maximum comfort.
Spontaneous getaways, improvised picnics and outings in nature will therefore be part of your daily life.
RoadLoft, a solid design, made to last
Expertise first
More than 3 years of research and development has led us to design a solid conversion kit adapted to road conditions.
Quality materials
Each of our materials is selected for its resistance to humidity, its solidity and its respect for the environment.
Well-protected wood
Our wood is marine grade, the highest level of durability. It is protected by an ecological, durable and non-toxic varnish.
Since your vehicle will be exposed to moisture and heat, it is important to adequately protect it from possible mould and mildew while providing you with a healthy environment to live in.
We have therefore selected a varnish with no volatile organic compounds.
Adapted to road conditions
With the help of our designers, we have designed a solid product, made to withstand the vibrations of the road.
By minimizing the hardware, which is susceptible to breakage over time, and by using the most solid manufacturing techniques.
High quality mattresses
Selected by a kinesiologist, our mattress is made of a high density foam (27 kg/m³) that will keep its shape for a long time and offer you all the comfort you need.
This mattress is covered with a waterproof and washable cover that protects your foam from outside humidity.
Comfort and space optimization
Functional
Everything has been thought out to limit manipulation as much as possible.
No time wasted in installing and maintaining your equipment, everything is always ready to use. More time to enjoy it!
Confort
Each kit is designed to fit perfectly to the curves and dimensions of the vehicle to provide you with an ergonomic and comfortable environment.
You'll sleep comfortably away from the elements!
Maximized storage
You'll have access to storage at all times, plus you'll have access to additional storage in the trunk if you decide to remove the third bench seat. So you'll have plenty of room for food, water and gear.
Unobstructed view
When you are seated at the table, you can comfortably enjoy the unobstructed view of the trunk.
A conversion kit that adapts to your needs
Removable sections
Whether it's to free up space to carry equipment or accommodate passengers in the back, your RoadLoft will always know how to adapt to the situation.
Various arrangements are possible
You will be able to enjoy an extra long bed at night and a table and bench during the day. You'll be able to quickly access the storage spaces and switch from vehicle mode to camper mode in no time at all!
Compact storage
Your kit is made in sections that fit into each other. You will only have 2 boxes to store when you want to store it.
Optimised space for each vehicle model
For each vehicle model there is a tailor-made kit, adapted to its curves and interior dimensions, in order to prioritise comfort and ergonomics.
Eco-responsible design
Made in Quebec
We manufacture RoadLoft in our woodworking shop located in Quebec City. You are therefore encouraging a local company.
Environmentally friendly materials
Our wood comes from sustainable forest management and is FSC, PEFC and Carbphase2 certified.
Sustainable Manufacturing
Because we are against programmed obsolescence, we offer you a solid product made to last over time. Your used kit will therefore have a high resale value, although you will have no reason to let it go!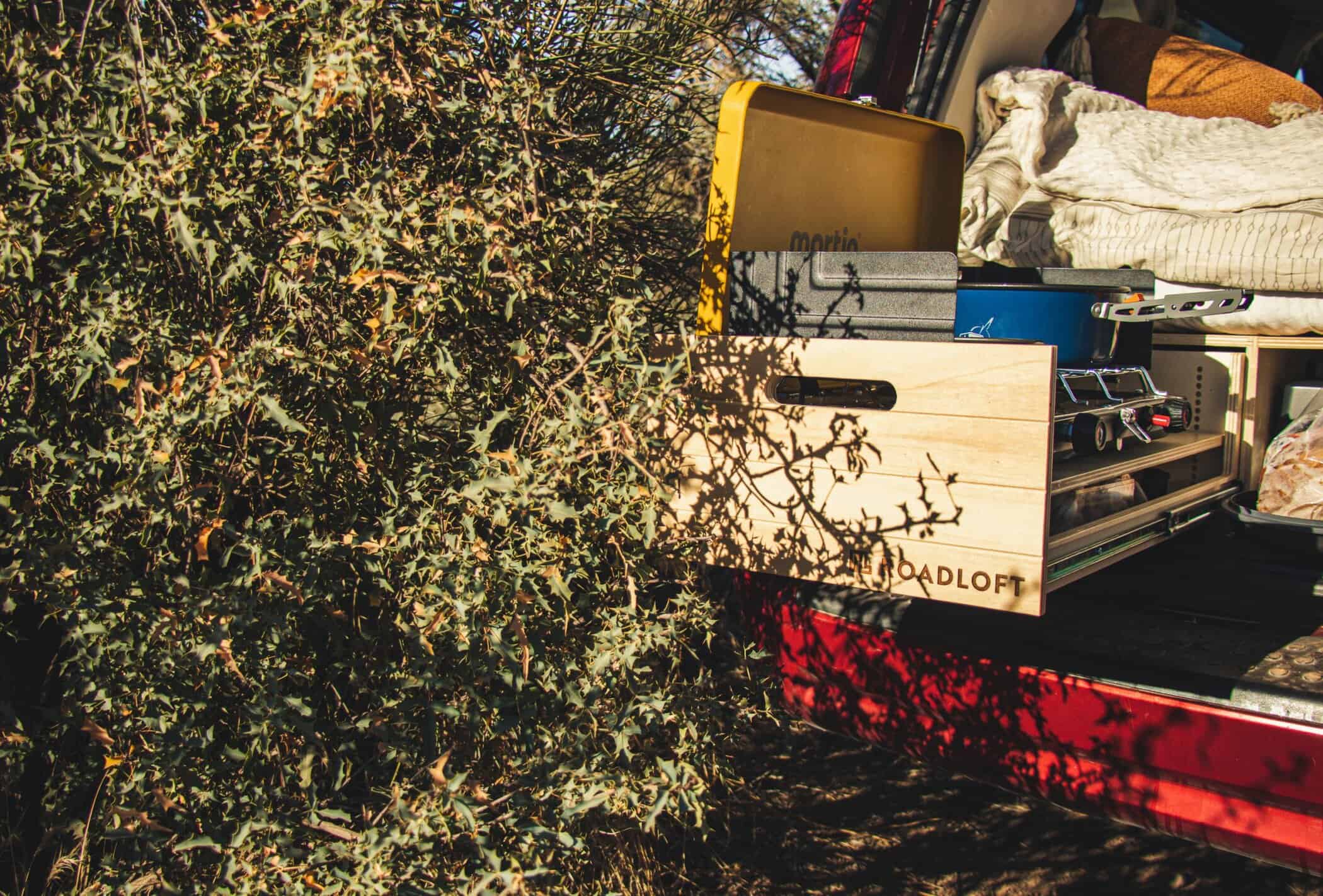 Several savings when travelling by minivan
Avoid RV-related fees
Your RoadLoft kit is a non-permanent modification, so you can save on RV costs. You won't have to pay the higher costs of purchasing, insuring, registering, maintaining or storing an RV!
Reduced fuel consumption
Your RoadLoft will consume 2 to 3 times less fuel than a recreational vehicle since a minivan consumes on average 9L/100 km on the highway.
The kit is ultra light and weighs 56kg, which will not affect your fuel consumption.
More camping options
Your RoadLoft will allow you to stay for free in boondocking mode or on small tents grounds which are much more intimate and economical. You will therefore be able to save on your travel expenses.
Only one vehicle
In addition to being eco-responsible, you will have only one vehicle to maintain instead of two.