With the good weather coming, the gradual deconfinement in progress, the opening of the SEPAQ territories, we are preparing to be autonomous in order to be able to make nature getaways right now in our region.
While respecting public safety regulations, we will travel completely independently this summer. Our Roadloft kit is designed to adapt to many situations and the pandemic will not be spared!
Here are our solutions to travel autonomously in a minivan equipped with the RoadLoft kit :
1- Toilet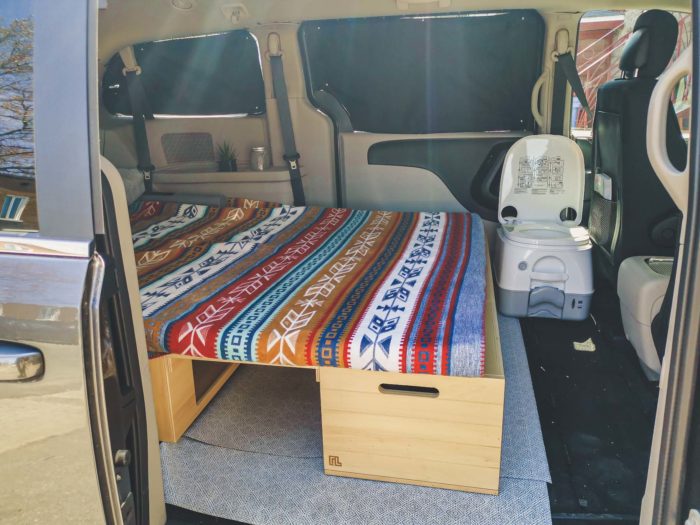 In previous years, we did not travel with a toilet and used public facilities. However, this year, we decided to add a toilet to our RoadLoft camper in order to always be independent. Since the gradual opening does not include access to public washrooms, we will be more than ready to enjoy nature in comfort. Fortunately, the RoadLoft kit is designed to accommodate a toilet in a functional way!
Several toilet solutions are compatible with the dimensions of the removable RoadLoft module, from makeshift toilets to so-called cassette toilets.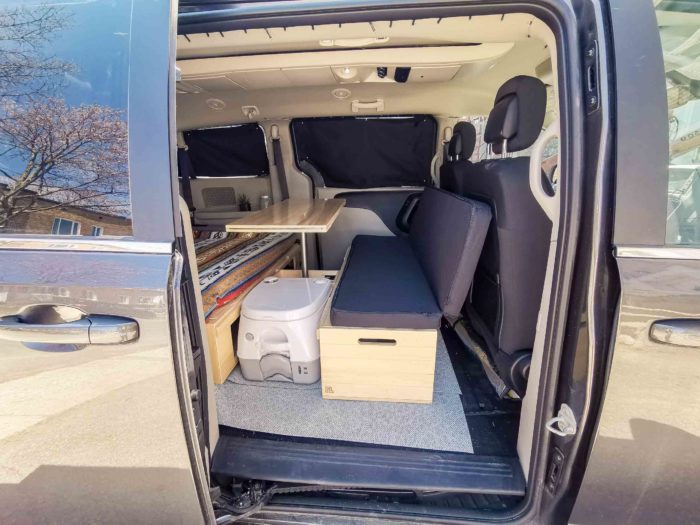 If you opt for this solution, make sure you choose a model with compatible dimensions in order to install it at the end of the bed at night. For example, for the often larger cassette toilet, choose a narrow model such as the Porta Potti 235 or the Dometic 972 or 975. You can place your toilet under the table when you're on the move and at the end of the bed at night by moving the front seats fully forward. Our kit has everything you need!
2- Showers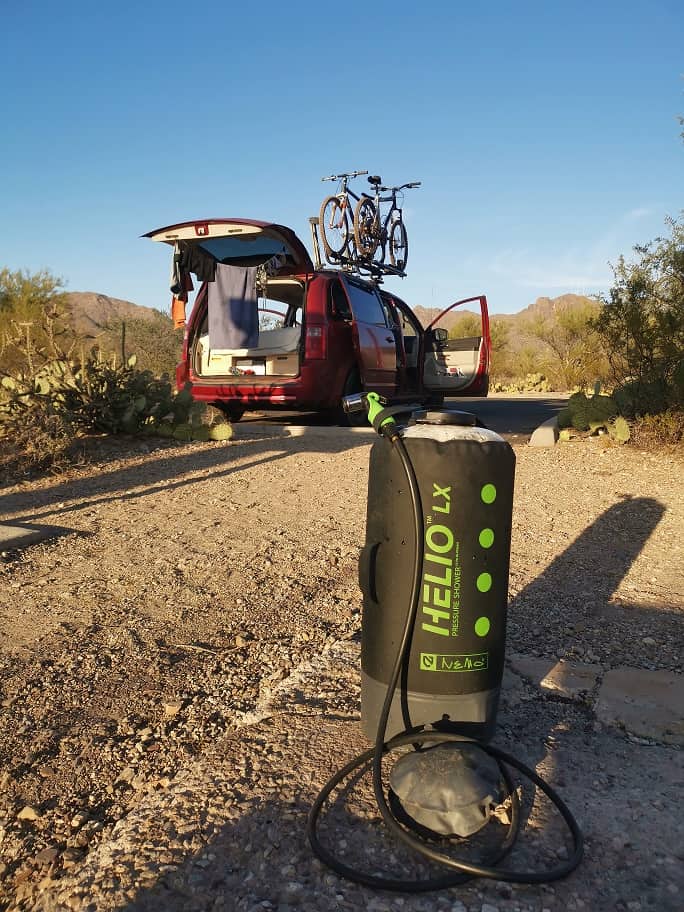 If the campsites do not open public sanitary blocks, we can still opt for portable shower solutions. Until the warm weather arrives, we can opt for cleaning wipes for short trips.
On hot days, we can also use solar shower solutions. There are several models and solutions. We personally tested the Helio pressure shower during our trip to Arizona in the fall of 2019. It's a solution that can be stored in a compact way, that accumulates heat during the day by leaving it on the roof and that offers a pressure comparable to the showers in the house! We love…
Energy autonomy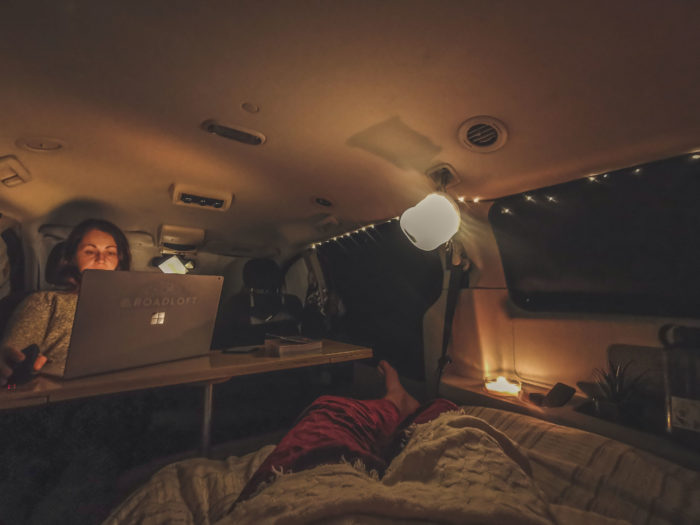 Covid or not, we are now completely energy self-sufficient thanks to our tandem battery and compact solar panel. Since we opted for a refrigerator instead of a thermoelectric cooler, we can now be totally isolated from services for several days.
What is the difference between a refrigerator and a 12-volt cooler?
An electric cooler consumes much more energy than a refrigerator and generally has a temperature difference of 20°C with the outside.
Thus, it is often necessary to add ice on summer days as opposed to the refrigerator where you will be able to determine the desired temperature precisely.
The cooler runs continuously, which quickly discharges your battery. A refrigerator, on the other hand, will run for a few minutes every hour, since it is much better insulated and has a compressor. For example, if it is programmed at 5°C, it will only operate when it notices a temperature variation and will stop as soon as the desired temperature is reached. Thus, for an outside temperature of 25°C, the refrigerator will run for about 15 minutes per hour, whereas the cooler will run for the entire hour since it never stops.
For the same auxiliary battery, you will have much more autonomy with a refrigerator.
Battery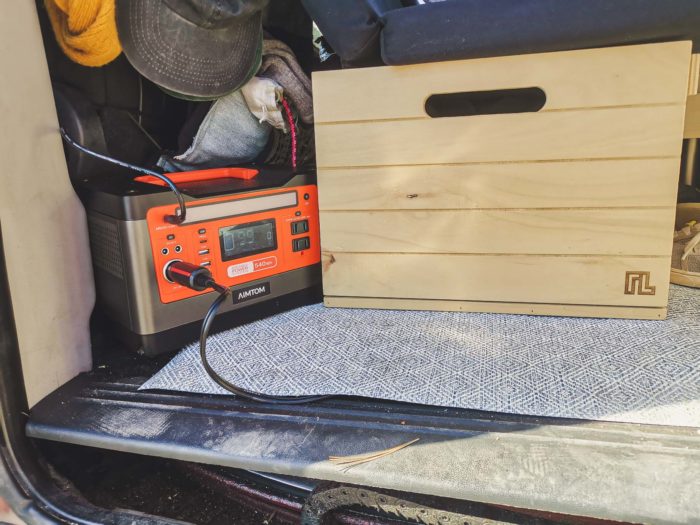 Concerning the battery, we use a lithium auxiliary battery, because they are much more compact and powerful. For more charging autonomy, we advise you to charge it before you leave, then to charge it via the 12 volt of your car when you travel. The battery AIMTON SPS-500 will offer an autonomy of approximately 48 hours for the refrigerator without needing to recharge. If you are the type to stay in the same place for several days like us, you will be completely autonomous by adding a solar panel.
Portable and compact solar panel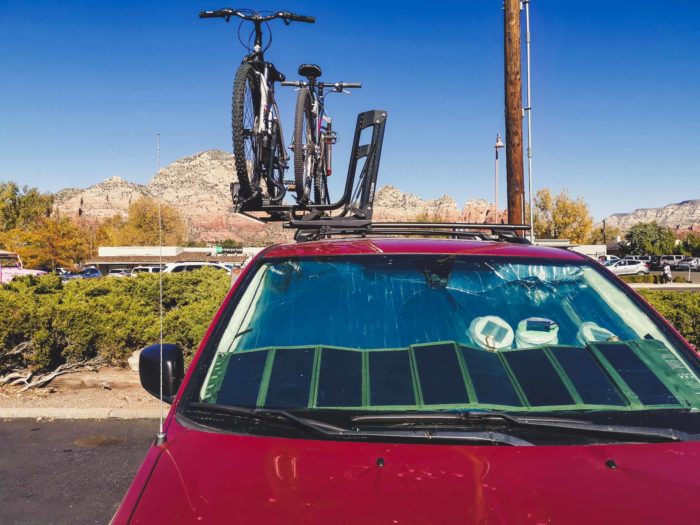 We really like the Aimtom 60W panel since it is super compact and can be left on the dashboard of the car at all times. As soon as we are not on the road, we use our panel to recharge the battery that powers our refrigerator! What we think is great is that it can be left safely in the car when we go for a hike for example and continue to power our battery!
Finally, all these solutions will allow us to enjoy time in nature even close to home, in all comfort!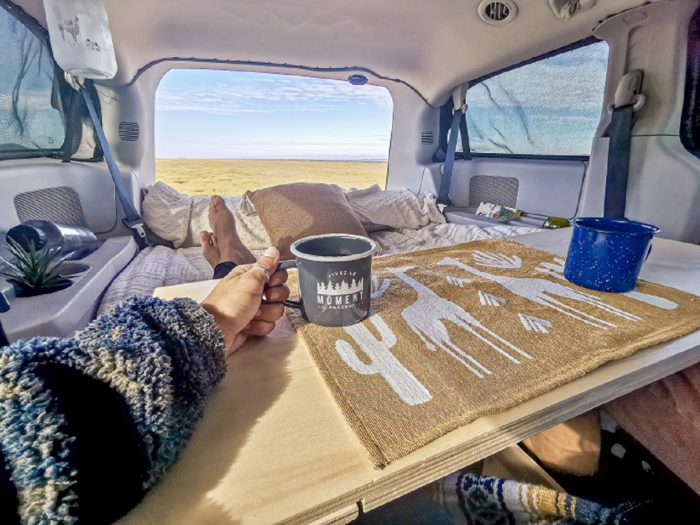 Note : Note: You want to purchase a Roadloft module for this summer? Contact us quickly because the pandemic has inevitably slowed down our production and our order book is filling up quickly …